Welcome to the Gornal and Sedgley Team Ministry website.
Our parish includes All Saints' Church in Sedgley, St Andrew's in The Straits and St Peter's in Upper Gornal.
We've been a team ministry since 2005: team working allows us to provide spiritual and pastoral care to a wide area including Upper Gornal, the Straits and Sedgley.
We look forward to meeting you at one of the churches in our parish soon.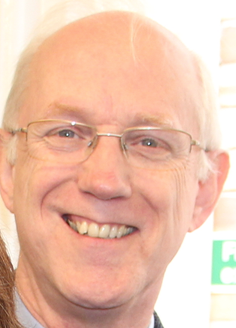 Revd Guy Hewlett (Team Rector, Gornal and Sedgley Team Ministry)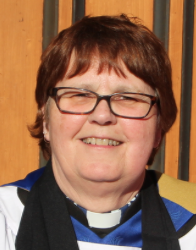 Revd Catherine Mitchell (Team Vicar, Gornal and Sedgley Team Ministry)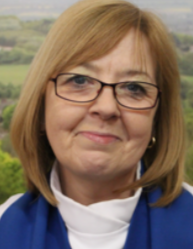 Canon Jan Humphries (Licensed Lay Minister, Gornal and Sedgley Team Ministry)
Gornal and Sedgley Team Ministry
SERVICES AND EVENTS AT ALL SAINTS'

Click here for a list of services and events at All Saints'
Please notify us of any services or events that are missing from the listings.
THE BEACON CHURCH MAGAZINE
The Beacon Parish Magazine December/January 2018
LATEST CHURCH NEWS FROM THE PEWSHEET
All Saints' pewsheet 16th December 2018
Our Facebook site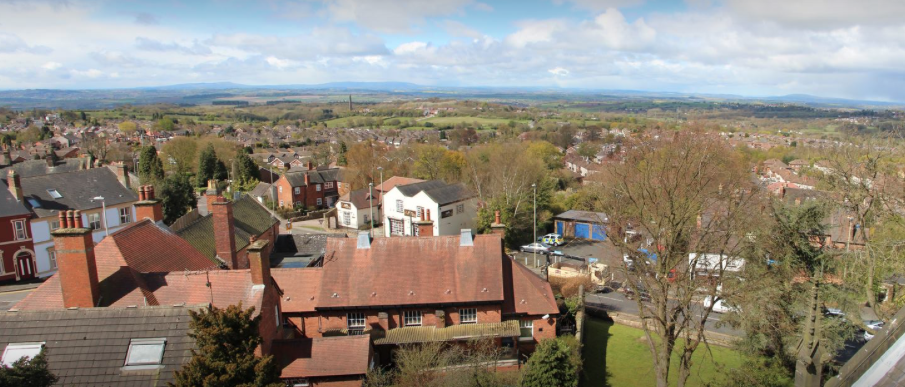 Our Facebook site provides an added facility for communicating with other members of our church community and with our Team Ministry.
Who's Who at All Saints' - updated 7/9/18
All Saints' Who's Who, September 7th 2018
Click on the image above to view an enlarged version.
...........................................................................................................................................................
CHRISTMAS SERVICES AROUND THE PARISH, 2018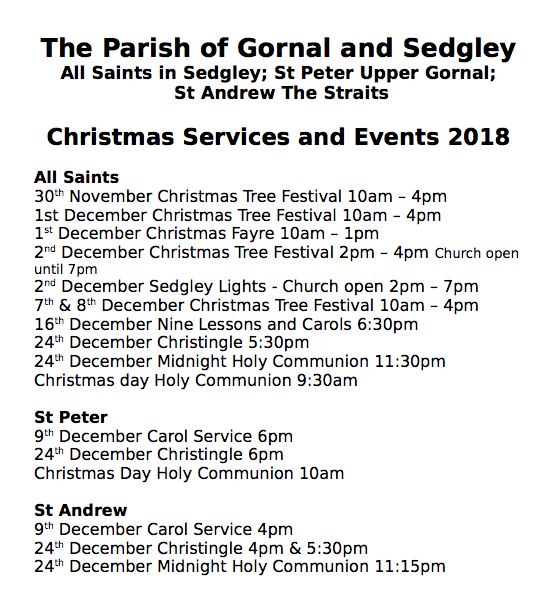 Christingle Services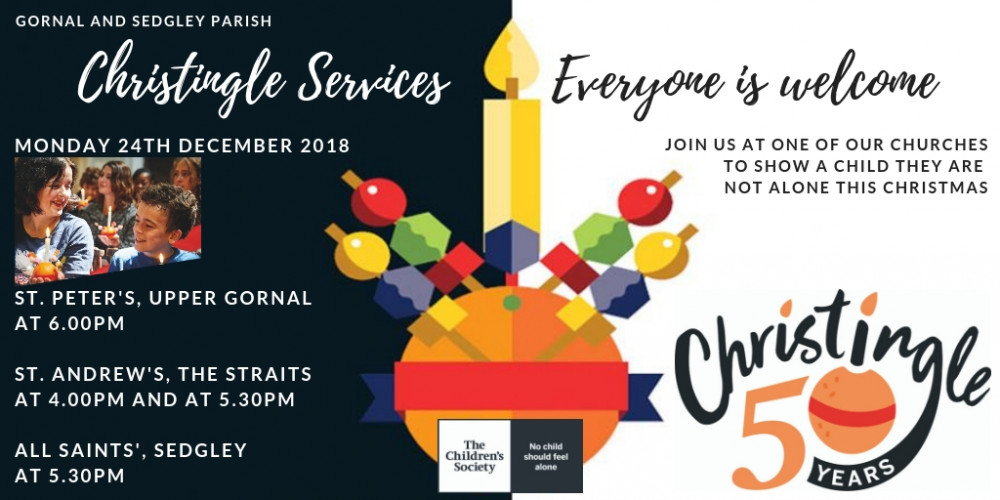 THANK YOU TO OUR WONDERFUL CHOIR AND CHOIRMASTER!
Congratulations to our outstanding choir for their performances at the Nine Lessons and Carols Service on Sunday night at All Saints'.
Everyone was impressed with the beauty of their vocals, interwoven with the traditional carols.
Thank you to everyone involved - and to Martin Platts for his work as choirmaster.
High Flyers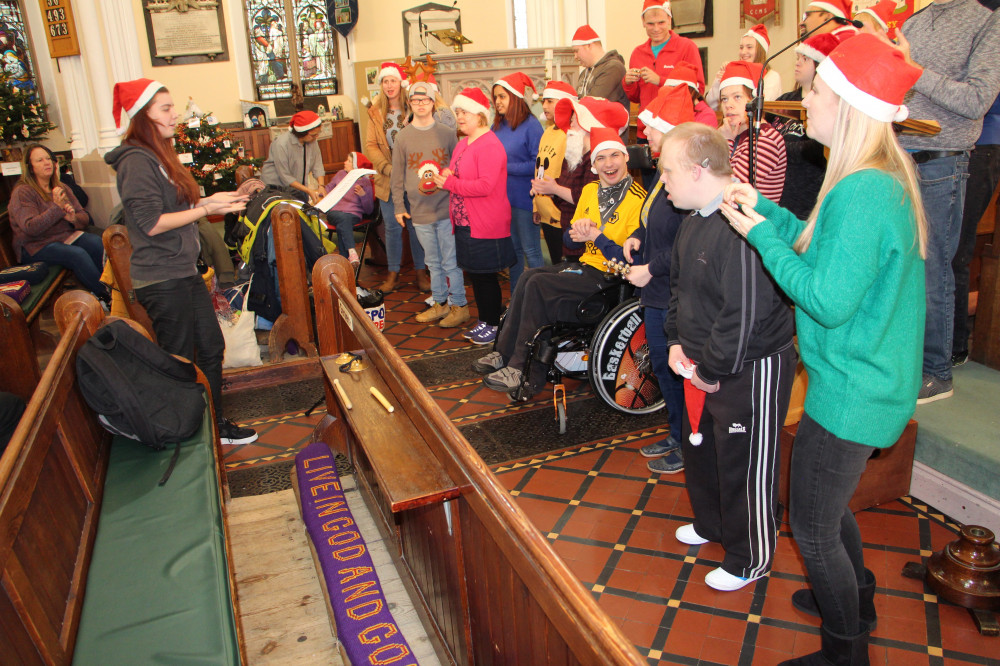 High Flyers perform Christmas songs and carols at Friday's Christmas Tree Festival.
Thank you very much to everyone at High Flyers for their wonderful Christmas Concert at the Christmas Tree Festival on Friday 7/12/18. It was a really entertaining, joyful performance - everyone who came loved meeting the singers, staff and volunteers afterwards.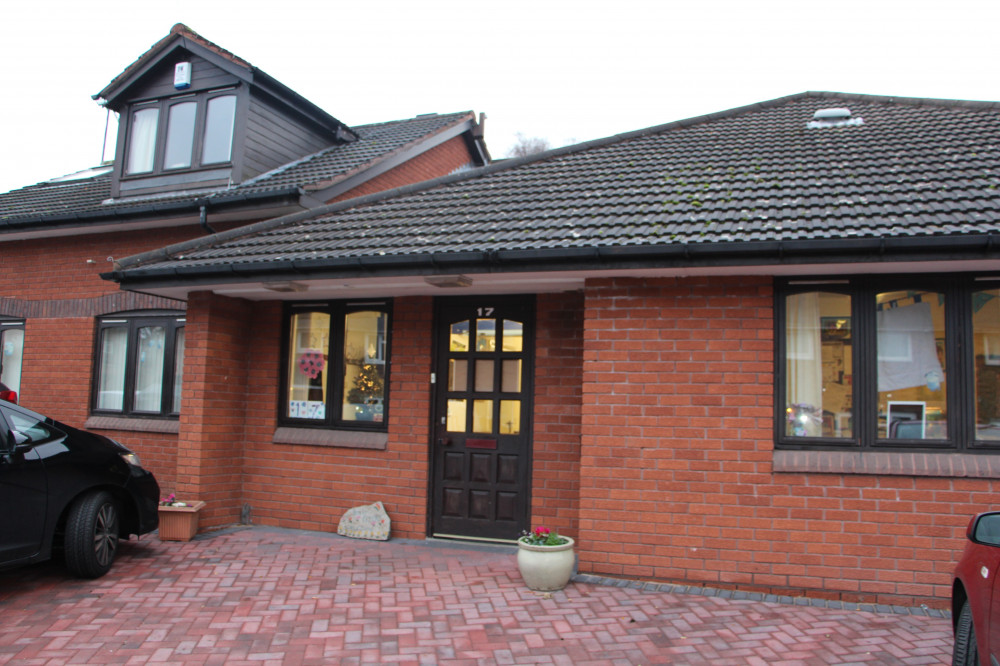 High Flyers' premises in Wombourne.
From time to time High Flyers is our Charity of the Month - Martin was invited to visit their premises in Wombourne on 4th December 2018 to meet centre manager Sheila Baker as well as her staff and volunteers, to find out more about the charity - who it works with, what it does - and to take photos of their facilities:
NEW!
CLAIRE COX TALKS ABOUT SINGING ANGELS AND ARCHANGELS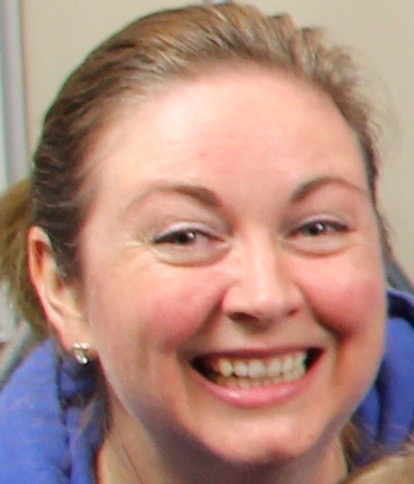 Claire Cox, founder of Singing Angels and Archangels, who are based at St Andrew's, The Straits.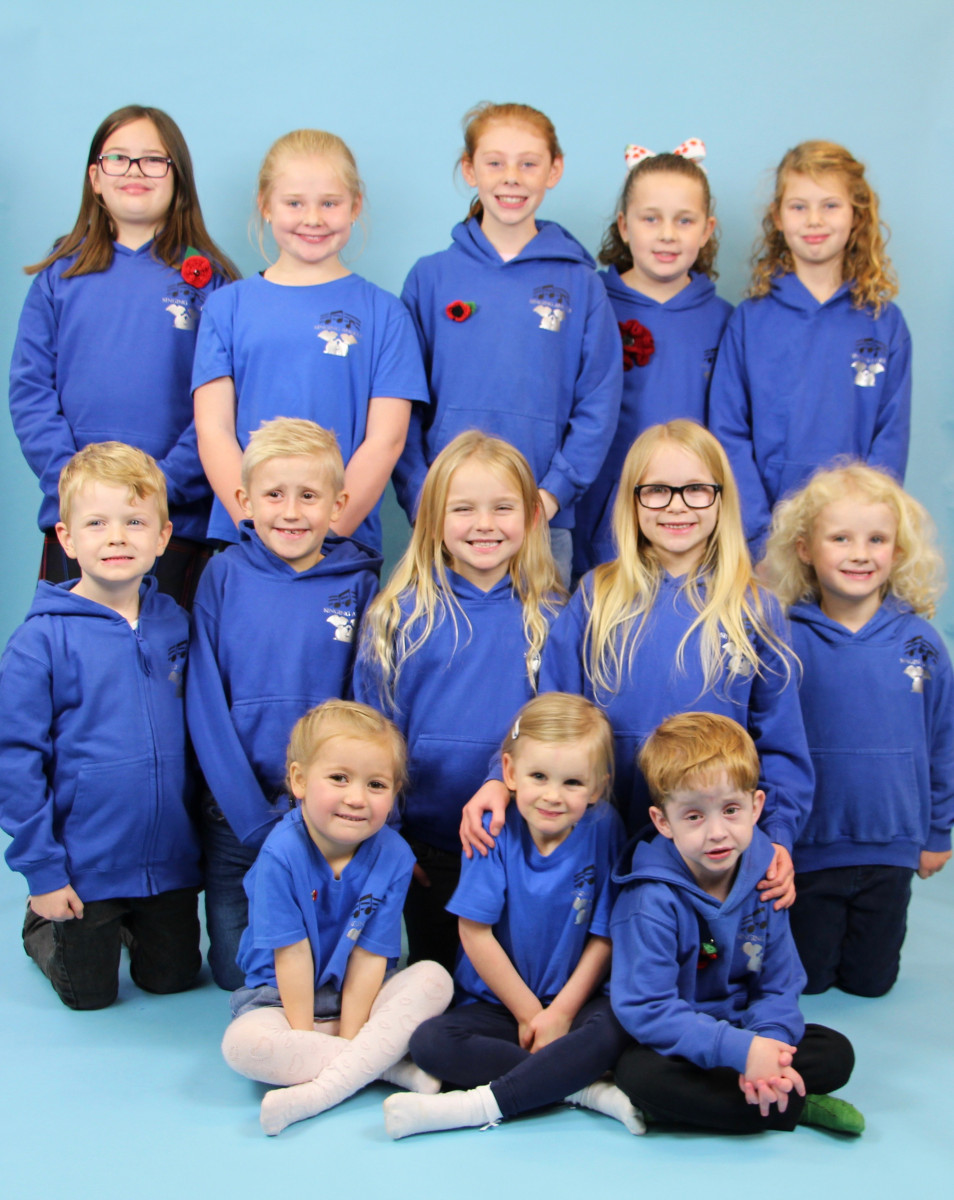 The Singing Angels line-up, pictured in autumn 2018.
After the Children's Society Autumn Fair, Martin interviewed Claire Cox, who leads the Singing Angels and Archangels at St Andrew's about the group and their plans for the future, as well as the motivation that led her to create such an inspiring initiative.
Martin interviews Claire Cox about our wonderful children's choir 'Singing Angels' - and 'Archangels'
If you'd like to find out what Singing Angels are doing now, as well as other activities in the Parish for young people, we've started a new experimental page on the website for Young Disciples:
As with all our pages on this website, the 'Young Disciples' page is as good as, and as up-to-date as the information we receive - so if you've got an activity please get in touch with Martin our web editor:
A History of Christianity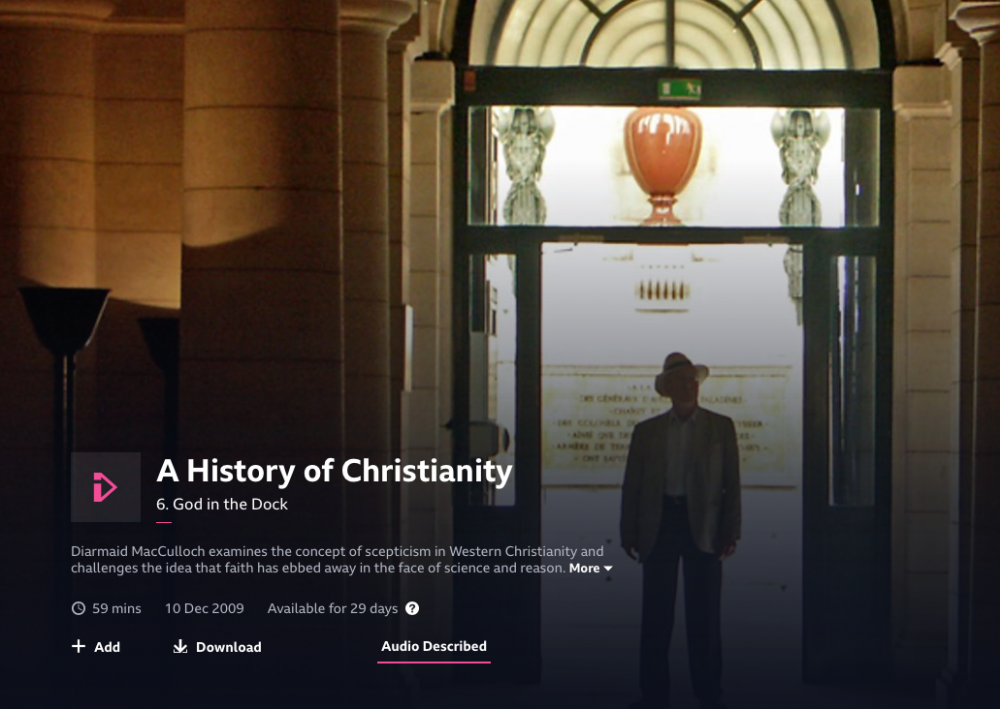 If you didn't catch the recent BBC4 re-run of Professor Diarmaid MacCulloch's series on the History of Christianity, it's still available on BBC iPlayer.
Here's a link to the last programme in the series - other episodes are also available:
History of Christianity - Episode 6
Help us identify faces from an All Saints' archive photo!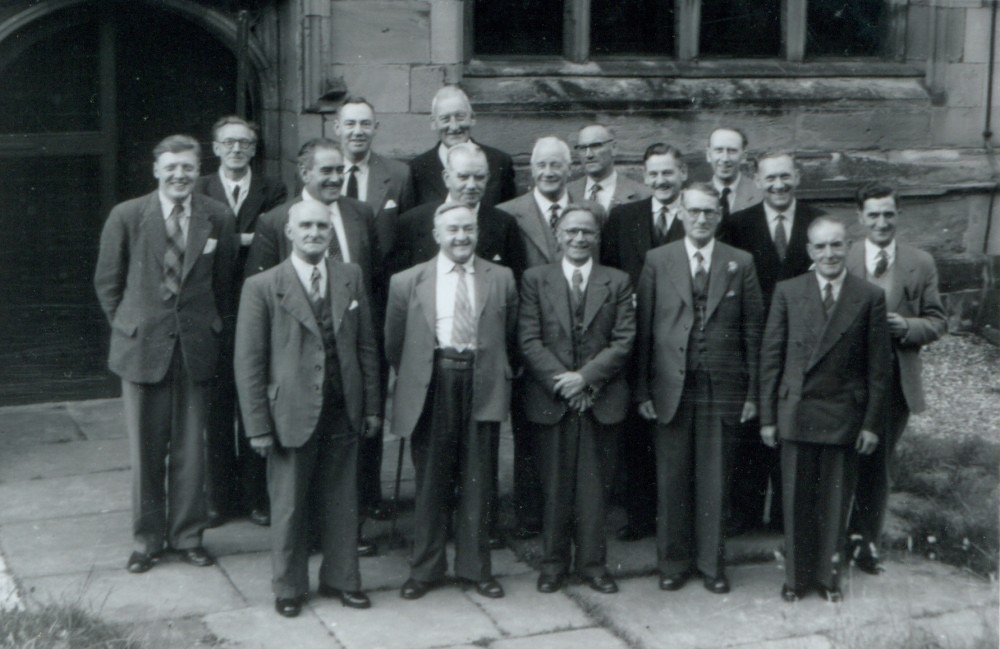 Possibly the CEMS - Church of England Men's Society in the 1950 or 60s.
All Saints' Church Archive latest!
Ken Slater, who has been attending All Saints' since the 1940s, has sent in some identification and info for an image we featured in our recent church archive selection. It's possibly of Church of England Men's Society, and probably from the 1950s or 1960s.
Ken has provided some names:
Extreme left Edward Morgan (once painted a picture of the church interior); others pictured include Reg Slater, Andrew Browning, Horace Downing, Cyril Evans, Mr Davies, Mr Timmins.
Front row, right, Job Evans - Verger in the 1940s.
Can anyone else help with identification (of their fathers, grandfathers, uncles etc?).
Lesley Guy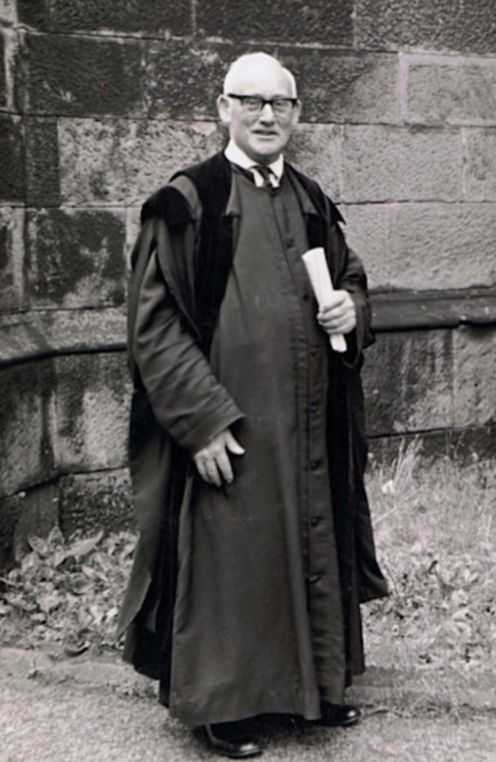 Another image we are seeking information about for the Church Archive is this one of our former Verger, Lesley Guy, who lived in the flat above the Church Hall.
In 2012 we put together an exhibition article about him for our Sedgley's Diamond 60 exhibition, with information supplied by his daughter who lives in Australia.
In Lesley's case we will transfer and edit down the information from the article for his entry in the archive.
Lesley Guy All Saints' Verger, 1960 - 1985
Our wonderful tree decorations
Every year around twenty local groups decorate trees for our Christmas Tree Festival.
Quite often, the fine detail of the tree decorations can be overlooked when looking at the entire tree.
so here's a detailed look at some of the great creativity displayed by our tree dressers:
2018 Christmas Tree decorations
All Our Yesterdays
Thank you to everyone who has supplied new information for our All Saints' Church Archive based on the slide shows below.
Martin will be sifting through the recordings and adding the information to the images where appropriate.
Here are the images, for which we are still welcoming more information:
All Saints' Church Archive image presentation (1)
All Saints' Church Archive image presentation (2)
Once we get these images as accurately captioned and titled as possible, they will form the core of a permanent All Saints' Collection for the Gornal and Sedgley People's Archive at Dudley Archives.
If you have any information about the images, want to add any names, or correct any captions in the slide show please contact Martin, who is currently compiling the Archive:
All Saints' Christmas Fayre 2018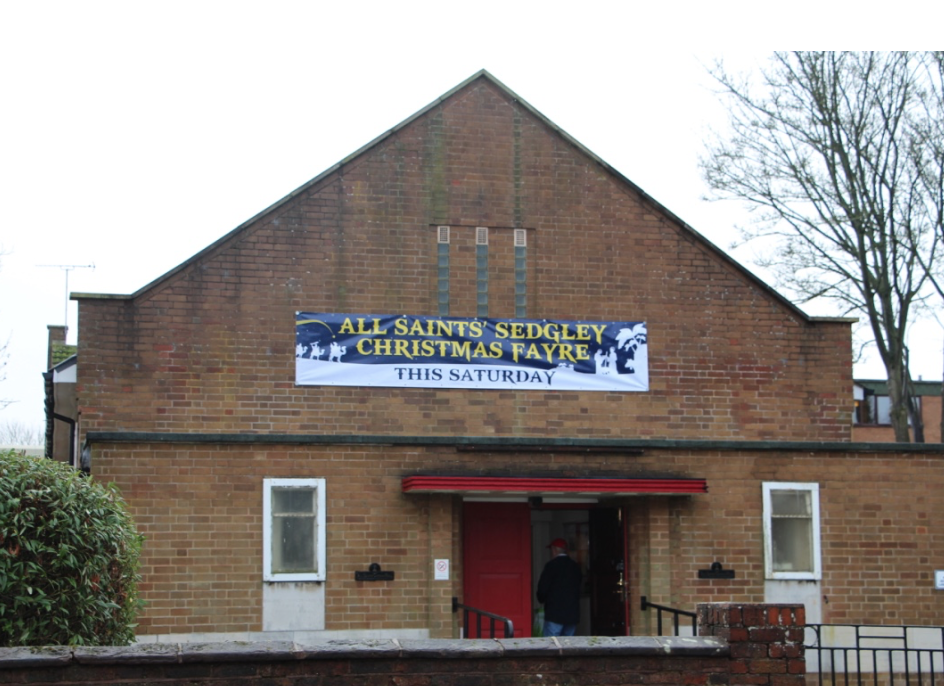 All Saints' Christmas Fayre was held on Saturday 1st December 2018 in All Saints' Church Hall. It raised:
£1583.56
Many thanks to everyone who organised it, ran stalls, all who came along to raise money - and to the daredevils who got onto the roof to erect the banner!
All Saints' Christmas Fayre 2018
CANON JAN LAUNCHES ALL SAINTS' CHRISTMAS TREE FESTIVAL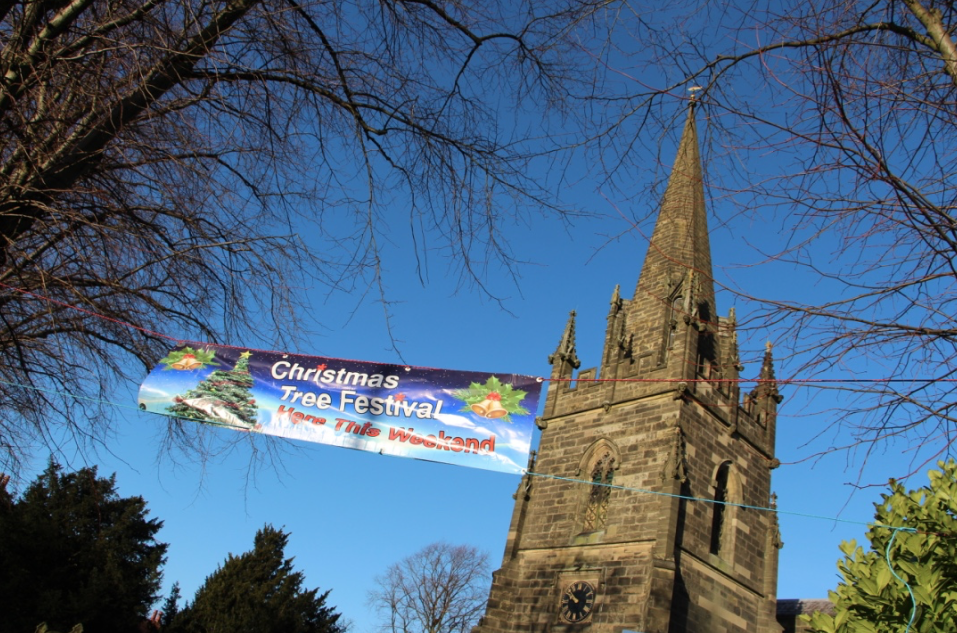 Clear blue skies for the opening of the festival.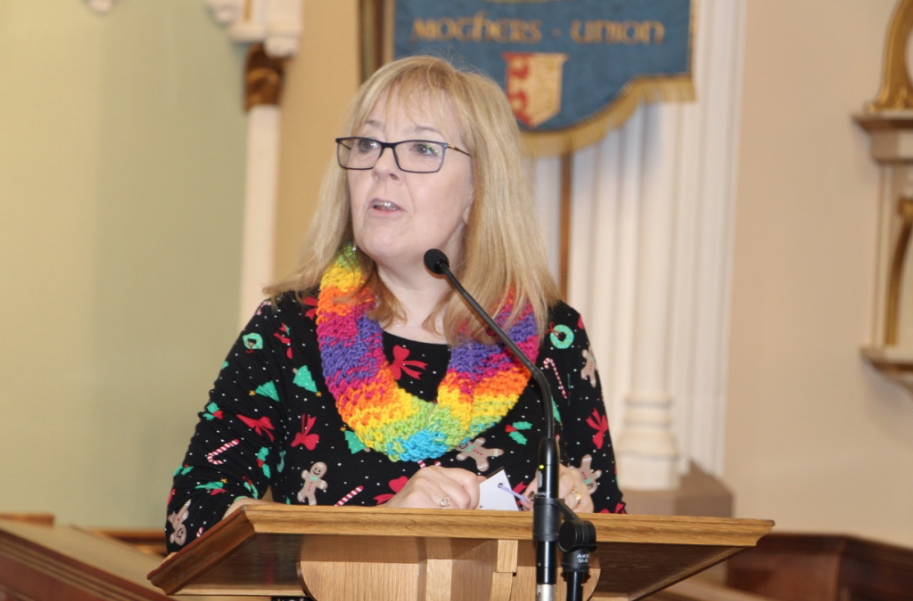 Canon Jan Humphries opens the event on Friday morning.
Our Licensed Lay Minister Canon Jan Humphries opened our Christmas Tree Festival at All Saints' at 10.00am on Friday 30/11/18.
The school choir from St Chad's Catholic School Sedgley perform.
We were delighted to welcome the school choirs from Woodsetton School and St Chad's Catholic School who sang a selection of Christmas carols for us. Thank you so much to their teachers who worked so hard to prepare the children.
The theme of this year's Christmas Tree Festival is 'Hobbies'.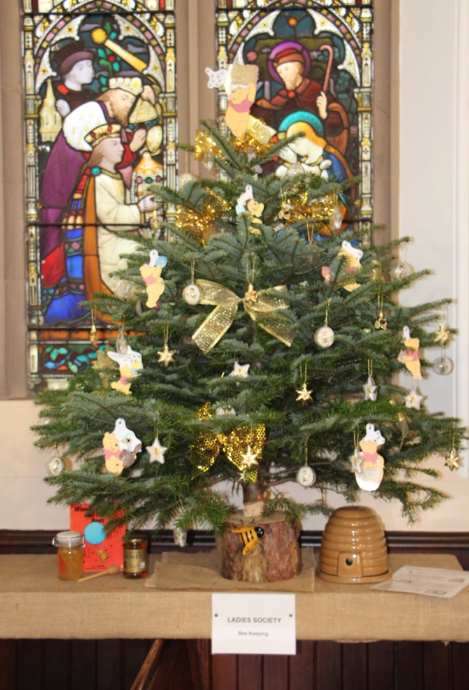 The Ladies' Society chose Bee Keeping as the hobby for their tree.
Here are some pictures of the ingenious, beautiful and thoughtfully decorated trees on show this year:
All Saints' 2018 Christmas Tree Festival
Thank you so much to all the organisers and to every local group who decorated a tree. This is a great annual village event to be really proud of as a community- and one that many look forward to each Christmas.
'REMINISCENCE CAFES' WINS THE COMMUNITY AWARD AT DUDLEY BOROUGH AWARDS NIGHT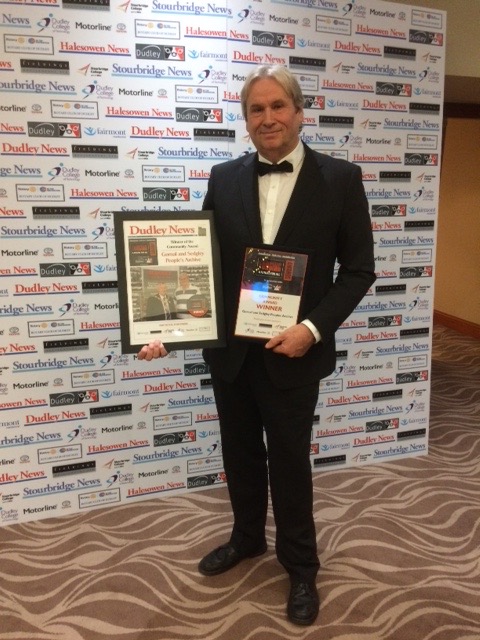 Martin with the Community Award won by Sedgley Archives Group, at the 'Forging a Future for All' Awards night at the Copthorne Hotel on 27/11/18.
Gornal and Sedgley People's Archive Project, run by Sedgley Archives Group won the Community Award on Dudley Council/Dudley News' 'Forging a Future for All' Awards Night held on 27/11/18 at the Copthorne Hotel Merry Hill.
It was a wonderful night where Dudley's achievements in many different areas were celebrated - it was the first time the awards have been held.
Reminiscence Cafes interview older people in Gornal and Sedgley about numerous different aspects of life, such as shops, schools, uniformed organisations and churches at specially themed cafe gatherings.
The Cafes use the network of churches of all denominations in the Gornal and Sedgley area. So far events have been held at St Chad's Catholic Church and St Andrew's Bilston Street.
Local community organisations and venues such as Sedgley Library are used for the cafes.
Last Christmas we held a celebration to share the information gathered at the cafes, about the shops in High Street, Bull Ring and Dudley Street.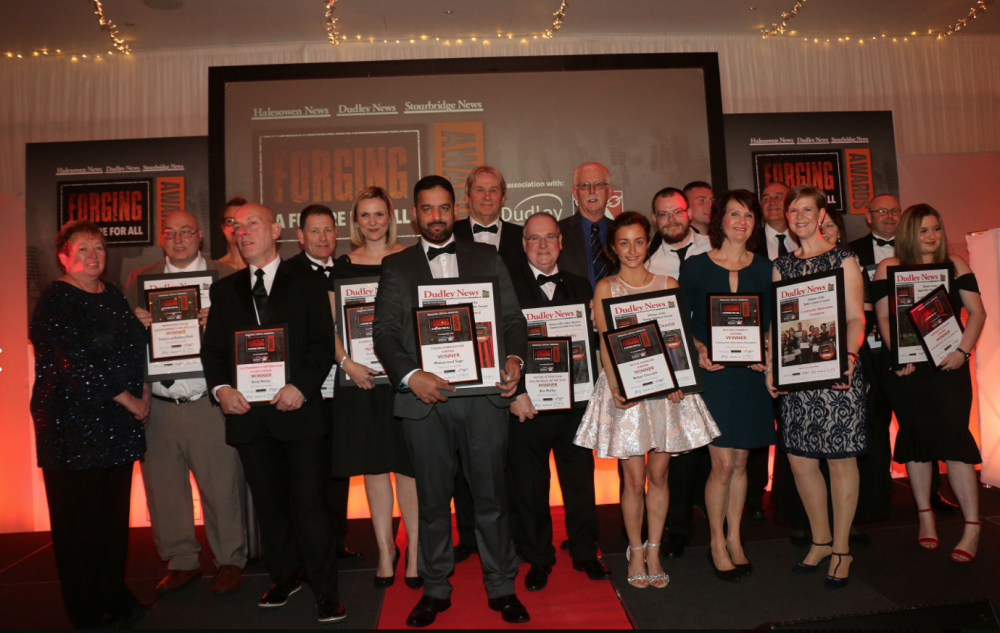 All the night's award winners on stage at the Copthorne Hotel at the 'Forging a Future for All' awards.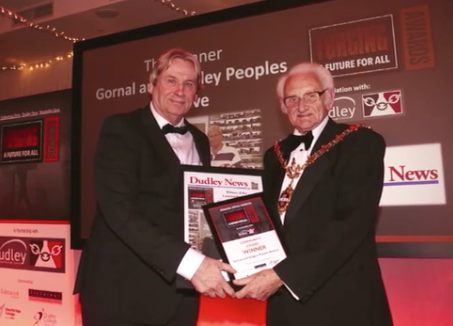 Martin receives the award on stage from the Mayor of Dudley.
Once recorded the memories are transcribed into a Gornal and Sedgley People's Archive which is based at Dudley Archives.
Thank you to Keith Tomlinson and Cicely Thomas, our committee members, for their support throughout.
BRILLIANT!
A WONDERFUL CHRISTMAS FAYRE AT ST PETER'S!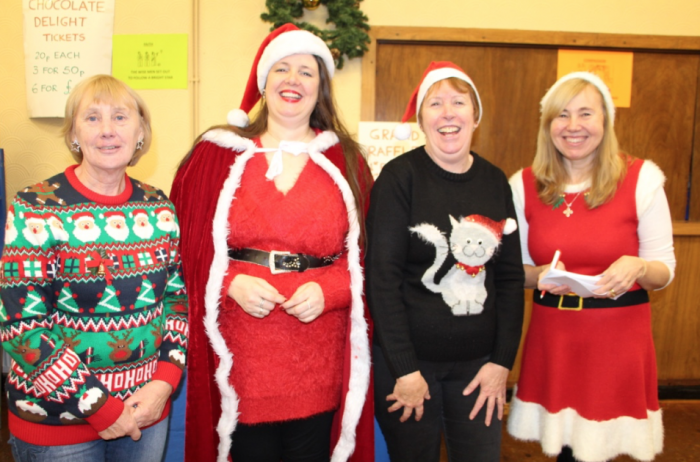 Some of the organisers of St Peter's Christmas Fayre.
St Peter's staged a bright, exciting and very well attended Christmas Fayre on Saturday 24th November 2018 in their Church Hall.
All the usual favourite stalls were there, and there was some great Christmas food served in the cafe too.
Well done to everyone at St Peter's for all their hard work.
Photos of St Peter's Christmas Fayre
How to book a wedding or baptism:
Baptism and weddings - bookings
If in doubt whether a Vestry Hour will be held at All Saints', and to avoid a wasted trip, call our Parish Secretary Gail:
01902 540289 between 10am-12noon, Monday - Friday.
Parish contact details
PARISH OFFICE
Address:
All Saints' Parish Office
Ladies Walk
Dudley
DY3 3UA
Phone number: 01902 540289
Our Administration Assistant is Gail Griffiths.
TEAM RECTOR
Revd Guy Hewlett
Gornal and Sedgley Team Ministry
All Saints, Sedgley
St Peters, Upper Gornal
St Andrews, The Straits
Phone and email contact details:
Phone: 01902 295164
email: guyhewlett18@gmail.com
TEAM VICAR
The Revd Catherine Mitchell
Team Vicar
Gornal and Sedgley Team Ministry
All Saints, Sedgley
St Peters, Upper Gornal
St Andrews, The Straits
Tel 01902 677897
revcatherinemitchell13@gmail.com
LICENSED LAY MINISTER
Canon Jan Humphries: 01902 661275
Other email addresses:
Keith Tomlinson, Churchwarden:
churchwardenkeith@allsaintssedgley.co.uk
John Anderson, Treasurer and Churchwarden:
treasurer@allsaintssedgley.co.uk
Jenny Lavender, Assistant Treasurer:
asstreasurer@allsaintssedgley.co.uk
The parish office is open 10am-12noon, Monday to Friday.
Information should be sent to Gail by Wednesday for inclusion in Sunday's pewsheet.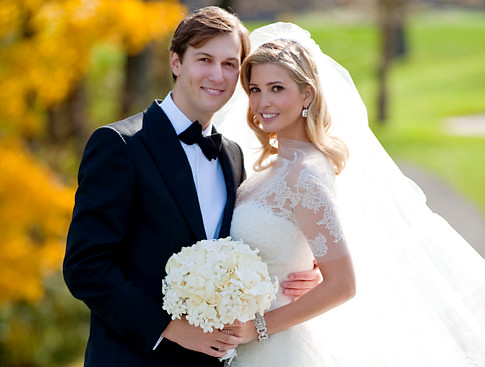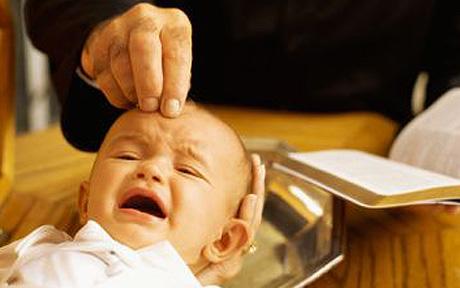 Arranging a wedding or baptism? - click here
Our website
If you'd like to contribute any information about forthcoming church events, write an article, or correct anything on the site, please send your information to Martin our website editor.