Welcome to the Gornal and Sedgley Team Ministry website.
Our parish includes All Saints' Church in Sedgley, St Andrew's in The Straits and St Peter's in Upper Gornal.
We've been a team ministry since 2005: team working allows us to provide spiritual and pastoral care to a wide area including Upper Gornal, the Straits and Sedgley.
We look forward to meeting you at one of the churches in our parish soon.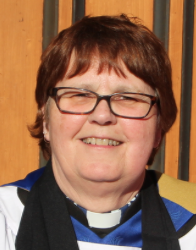 Revd Catherine Mitchell (Team Vicar)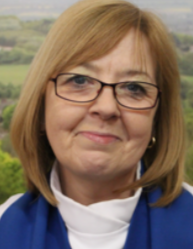 Jan Humphries (Licensed Lay Minister)
Gornal and Sedgley Team Ministry
SERVICES AND EVENTS AT ALL SAINTS', ST ANDREW'S AND ST PETER'S

Click here for a list of services and events at All Saints', St Andrew's and St Peter's
Please notify us of any services or events that are missing from the listings.
LATEST NEWS ON THE PEWSHEET:
BEACON MAGAZINE
Who's Who at All Saints'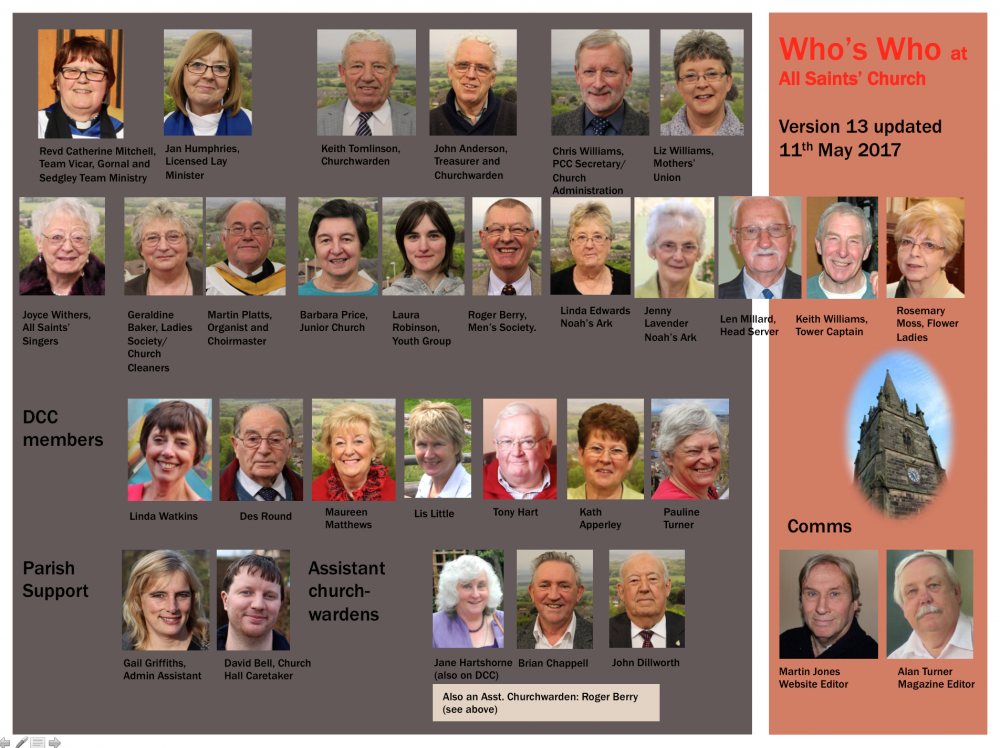 See larger version of Who's Who
LEN SETS A WONDERFUL EXAMPLE TO US ALL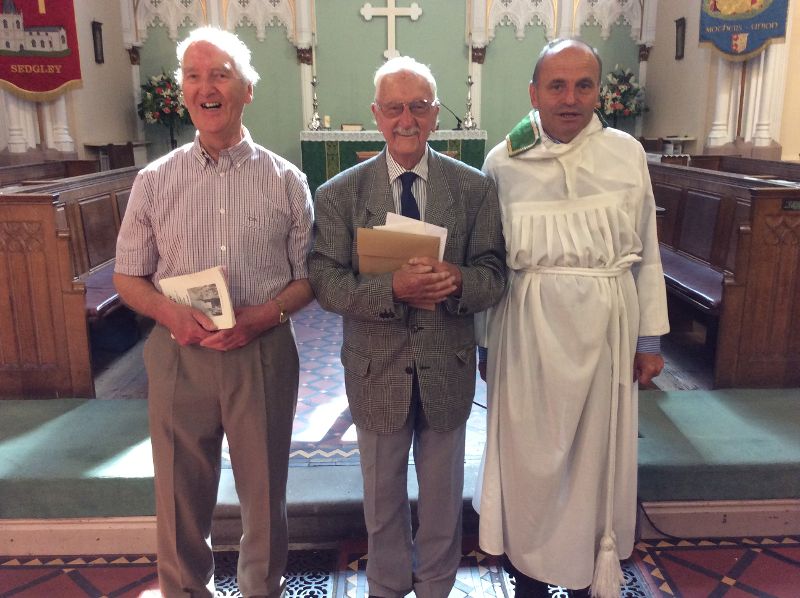 Len Millard (centre, with fellow altar servers) at his presentation on Sunday 18th June 2017.
Linda Watkins was present at the 8.00am service at All Saints' on Sunday 18th June 2017, and took a set of photos of a very special occasion - Linda writes:
"Len Millard, our head server of well over 50 years, will be 95 years young on Friday 23rd June 2017.
Len has given amazing service to All Saints'. He was recognised for this at our 8am service on 18th June.
Len was presented with a bottle of malt whiskey, a lovely plant and numerous cards from members of the congregation.
Many thanks Len , with our love and blessings."
Len Millard's 95th birthday presentation
SUMMER CONCERT
A reminder that we're holding a summer concert instead of our summer fete.
It's at All Saints' on Saturday 1st July 2017 at 7.30pm.
Tickets are £8.00, which includes a glass of wine.
The music will be from classical to pop, Vivaldi through to Simon and Garfunkel.
Tickets are now available in the mornings from Gail in the Parish Office, Ladies Walk from 10-12 Mon-Fri.
NEW GATES AT THE VICARAGE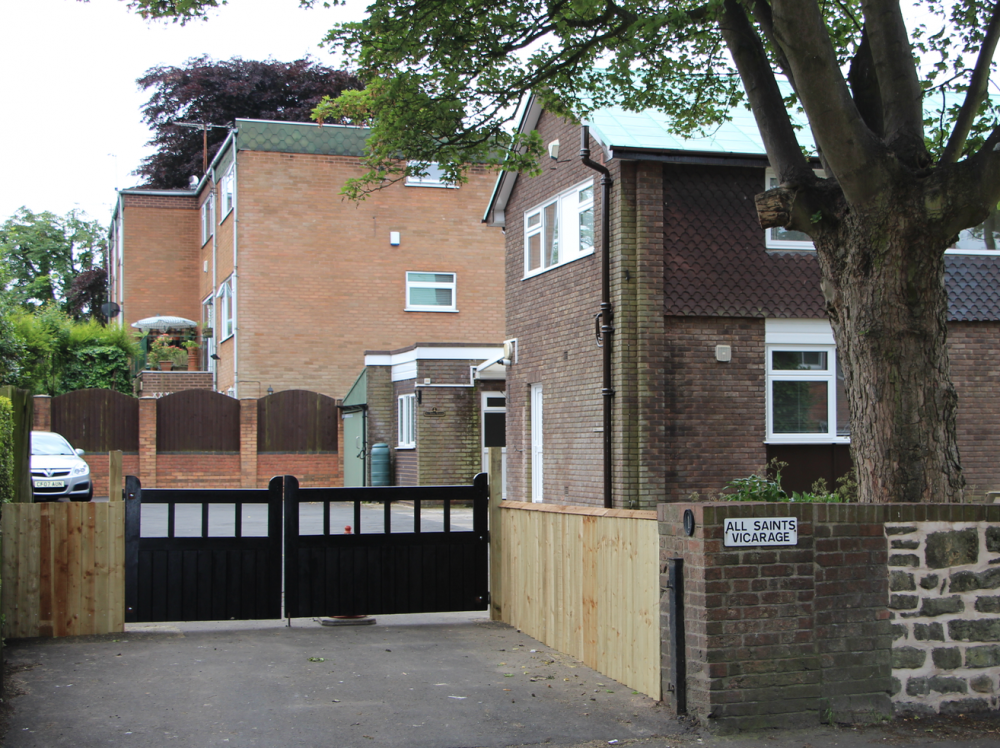 New gates at the vicarage in Vicar Street.
A pair of new gates have been installed by contractors at the vicarage in Vicar Street, opposite All Saints', ready for Revd Guy Hewlett's arrival as Rector of Gornal and Sedgley in August. He will be licensed on Sunday 3rd September at 4pm at All Saints'.
The gates are set back from the road, allowing space for vehicles to turn.
FRIENDS REUNITED AFTER 60 YEARS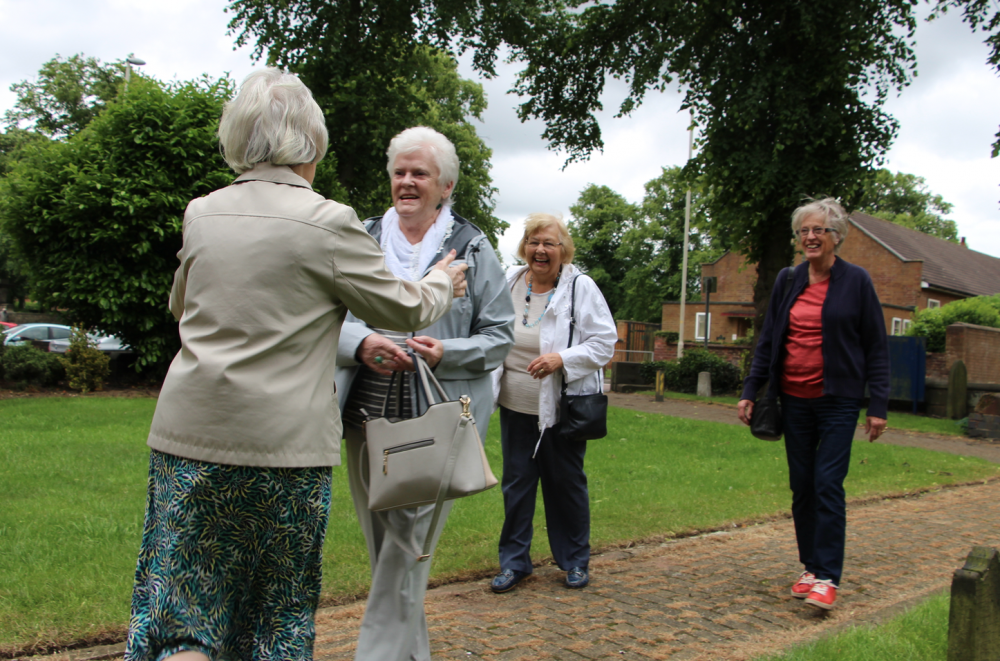 Jenny Lavender greets Jill Williams (nee Taft) on the path at All Saints' - they last saw one another in the 60s.
All Saints' friends Jenny Lavender and Jill Williams (nee Taft) were reunited after more than 50 years at All Saints' on Monday 12th June.
They were friends in Sedgley in the 1950s and 1960s - and went to Dormston School together.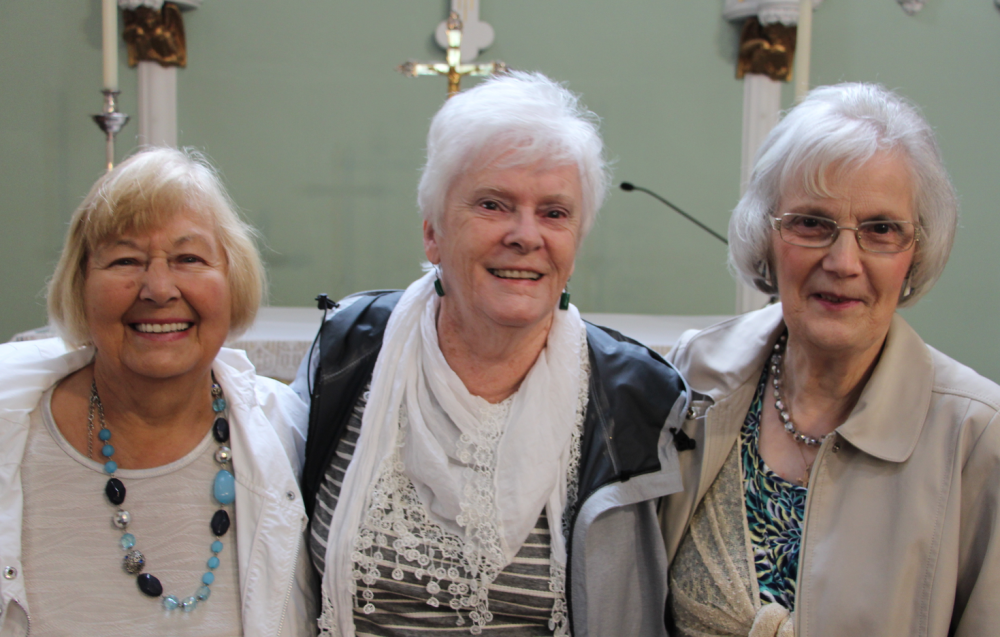 Ivy, Jill and Jenny met to reminisce about the 1940s, 50s and 60s in Sedgley.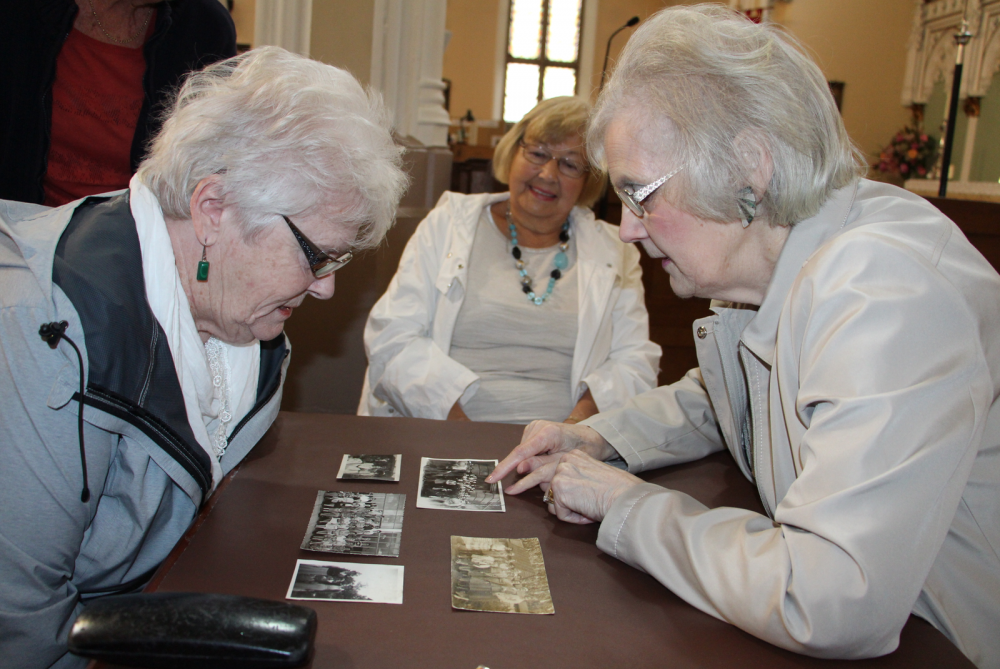 Jill and Jenny look at Jenny's photos from the 50s and 60s - Ivy Slater looks on.
Together with Ivy Slater, they met to reminisce about life in Sedgley from the 1940s onwards.
Jill emigrated to Canada in 1971 and has lived there ever since.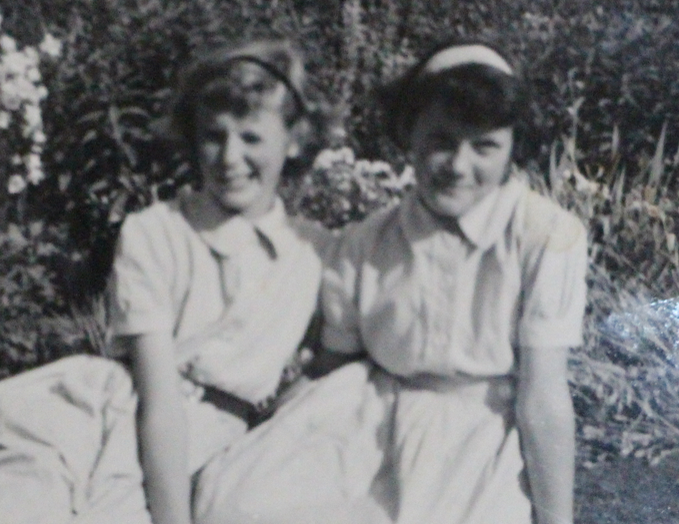 Jill and Jenny in the 1950s.
Martin of Sedgley Archives Group was on hand to record their reunion for the new peoples' archive project - and will be writing up their conversation in due course.
'GETTING MARRIED AT ALL SAINTS' LEAFLET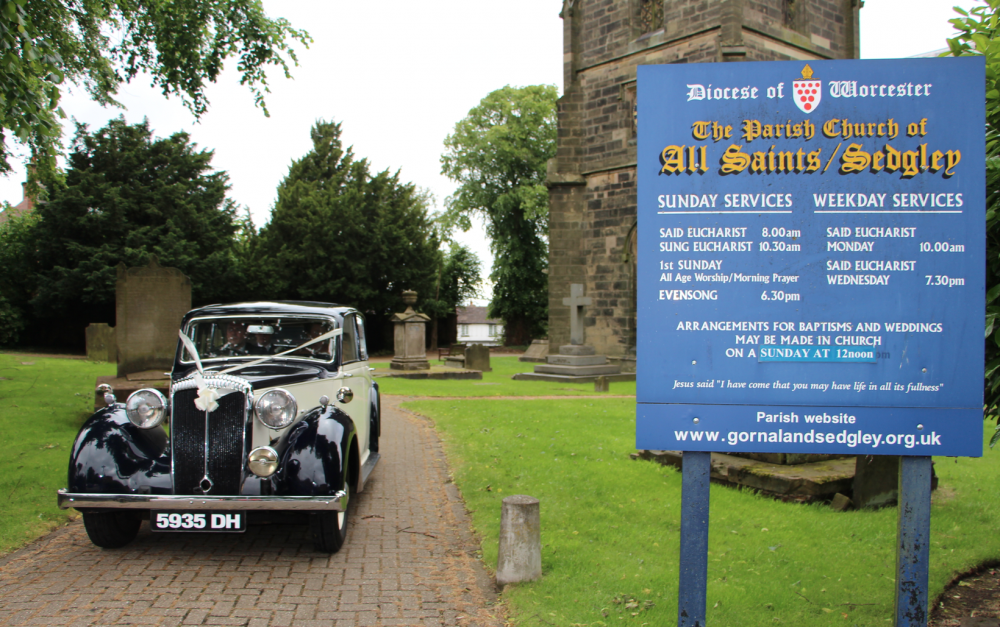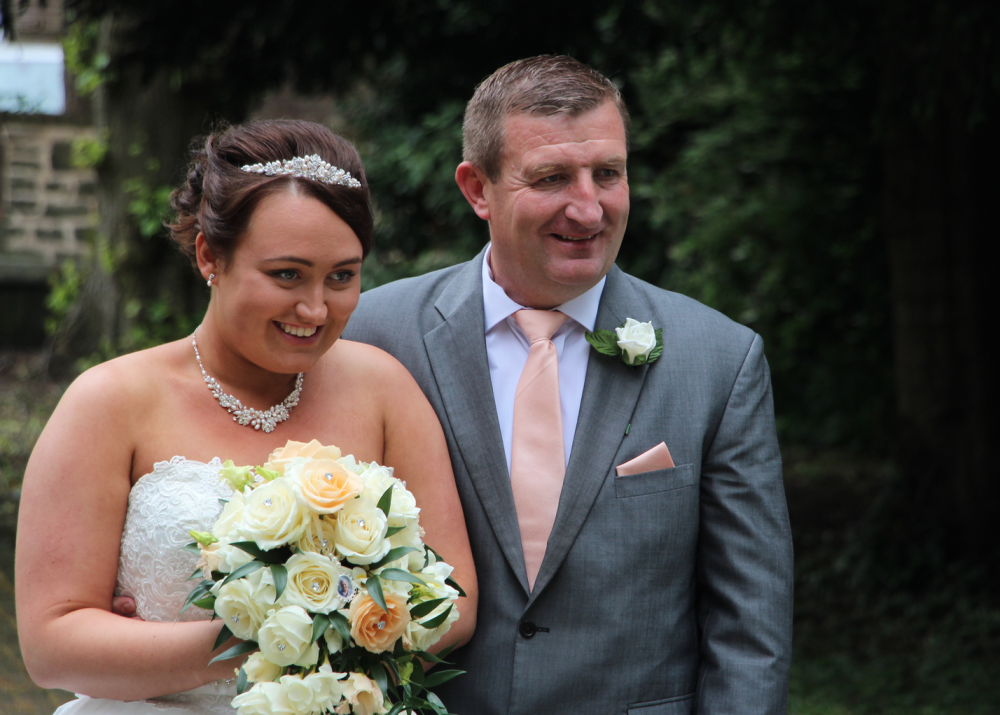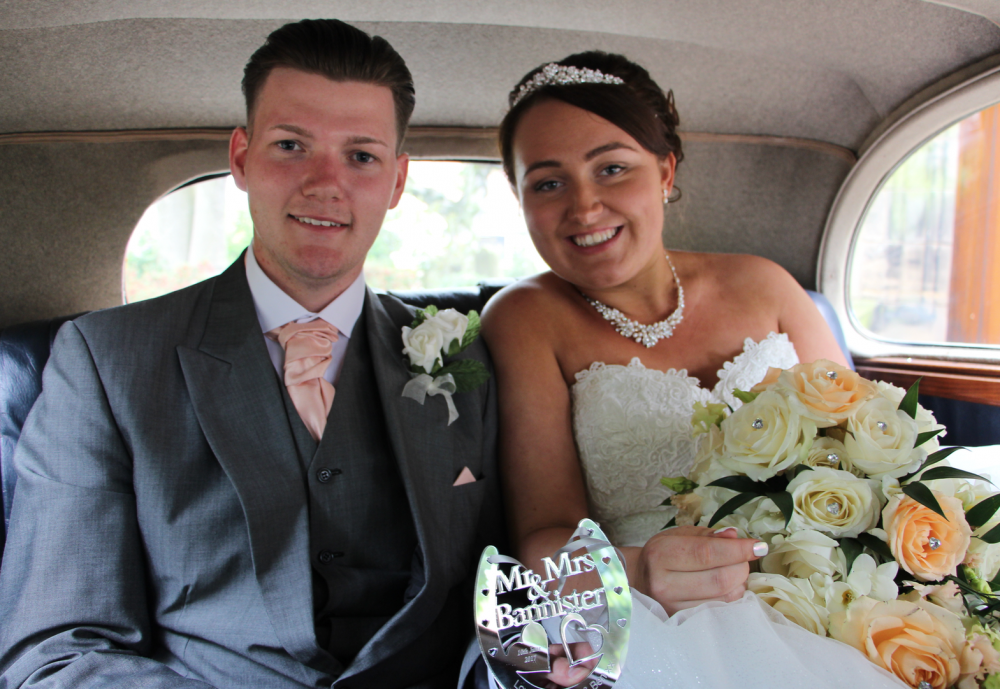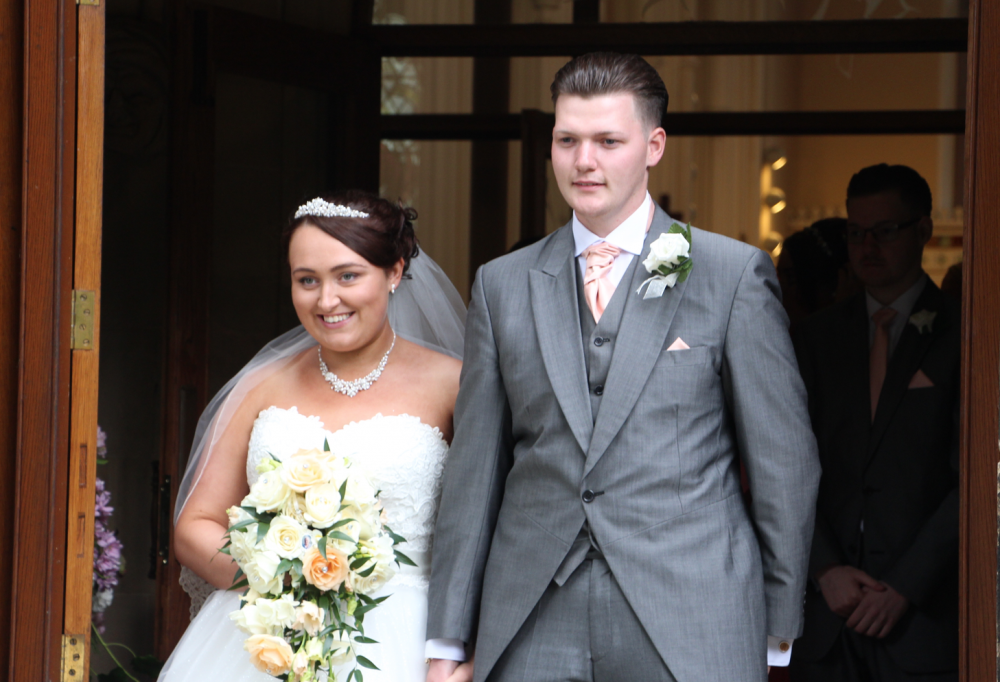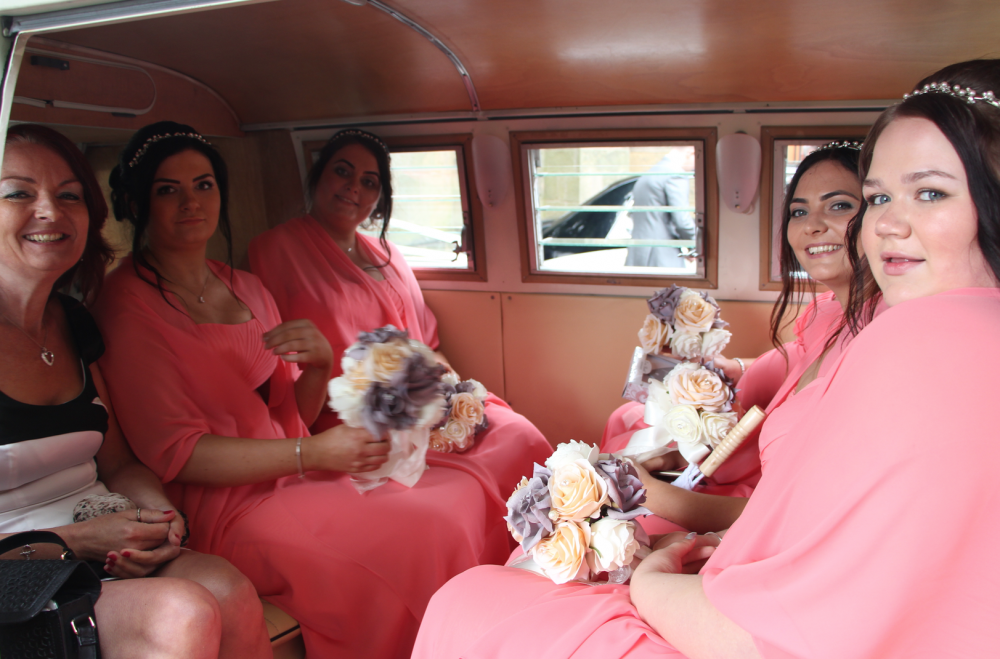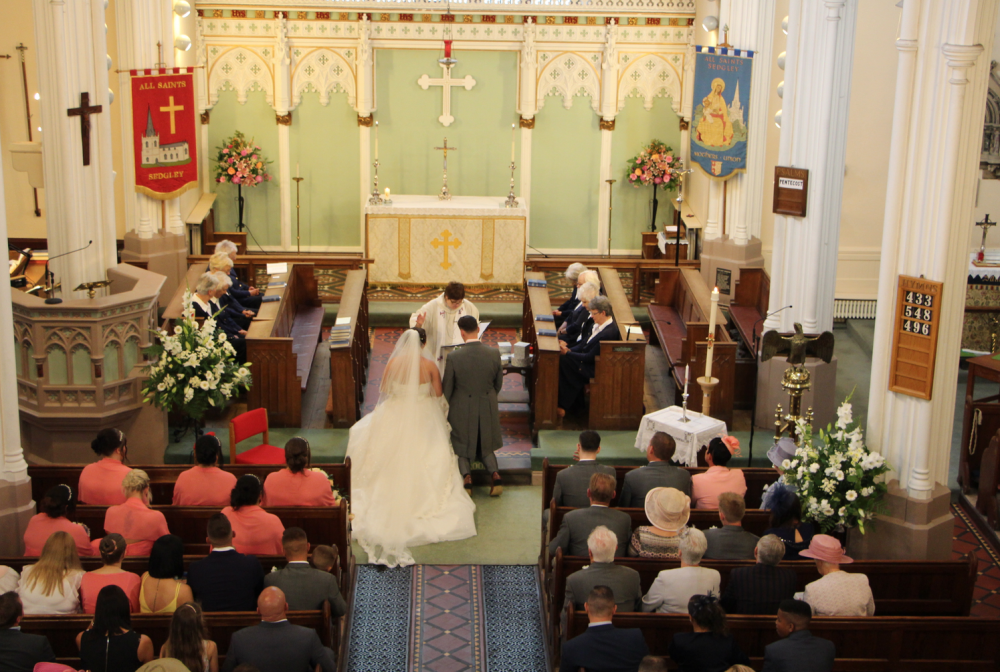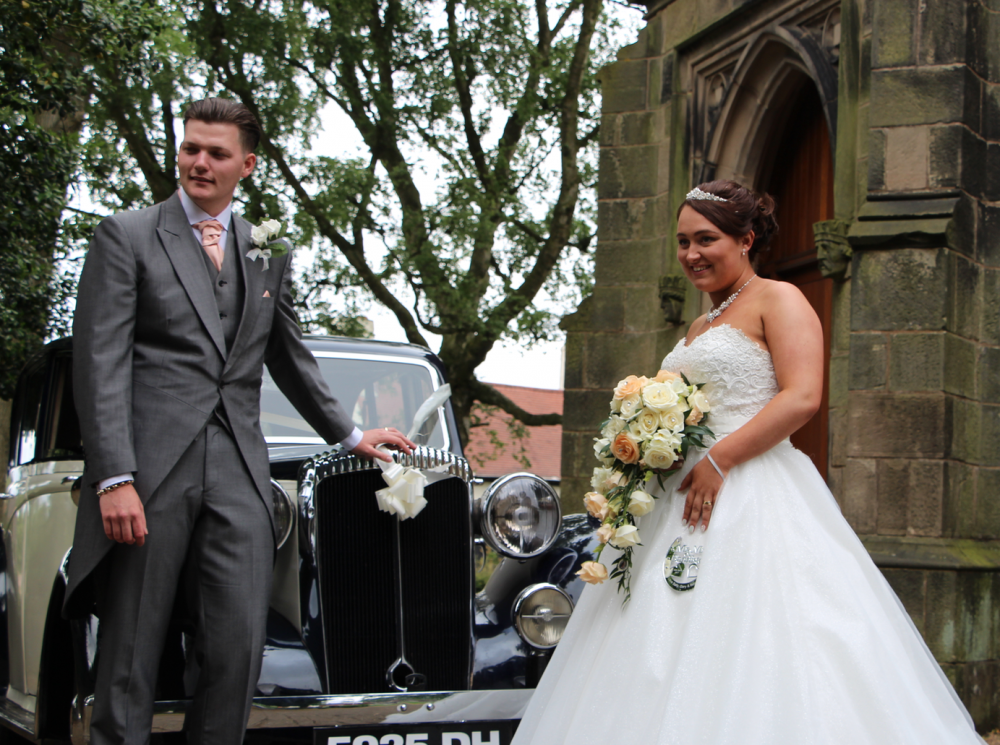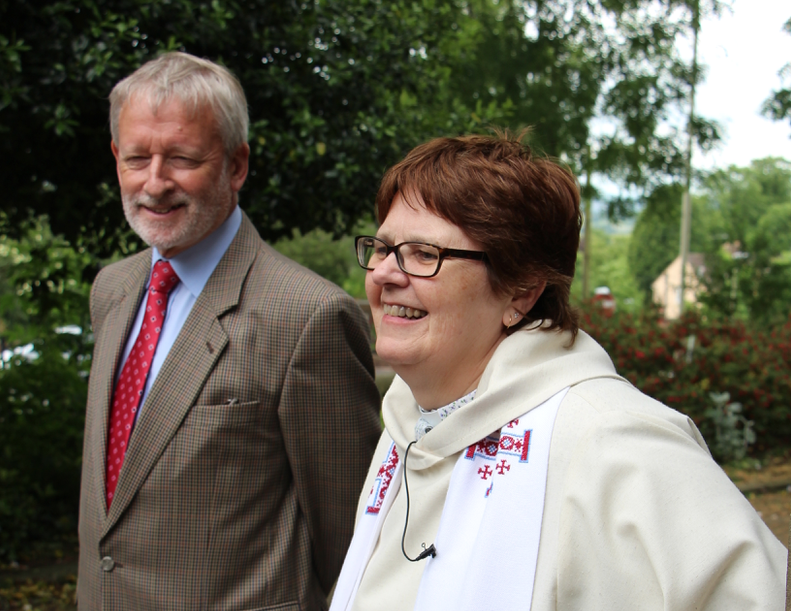 Martin attended a summer wedding at All Saints' to get some up-to-date photos of a wedding at our church, for a leaflet Revd Catherine Mitchell is preparing.
Lauren and Liam Bannister's wedding was beautiful - the pictures will be ideal for presenting the best aspects of All Saints' to couples intending to get married here. See our photos of their wedding day:
An All Saints' Wedding 2017 - Lauren and Liam Bannister
ST ANDREW'S SUMMER FAIR 2017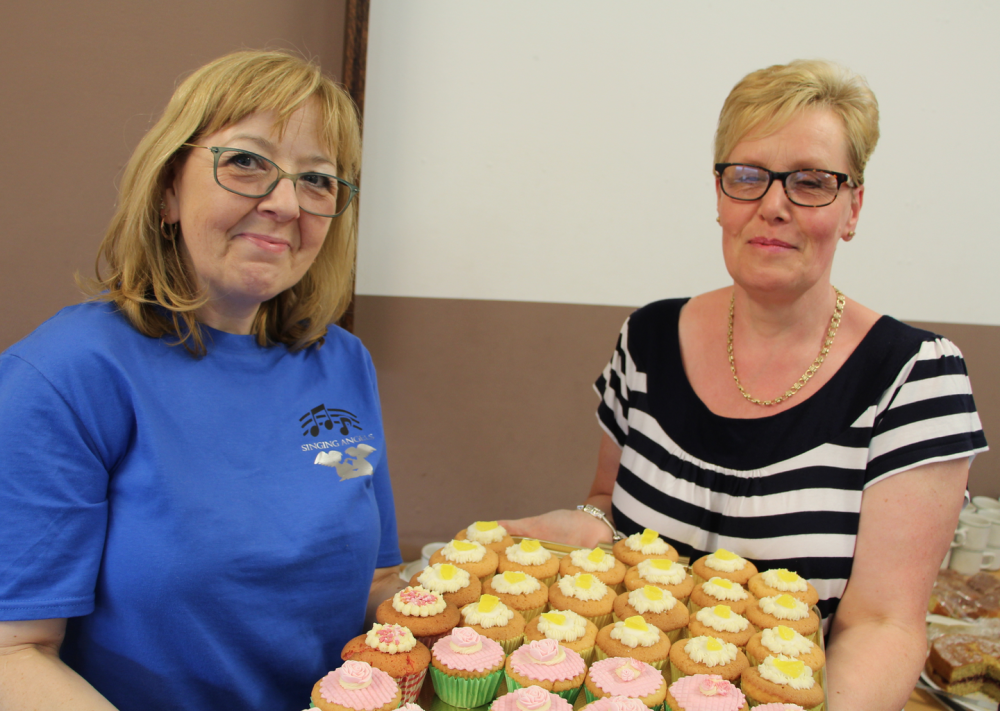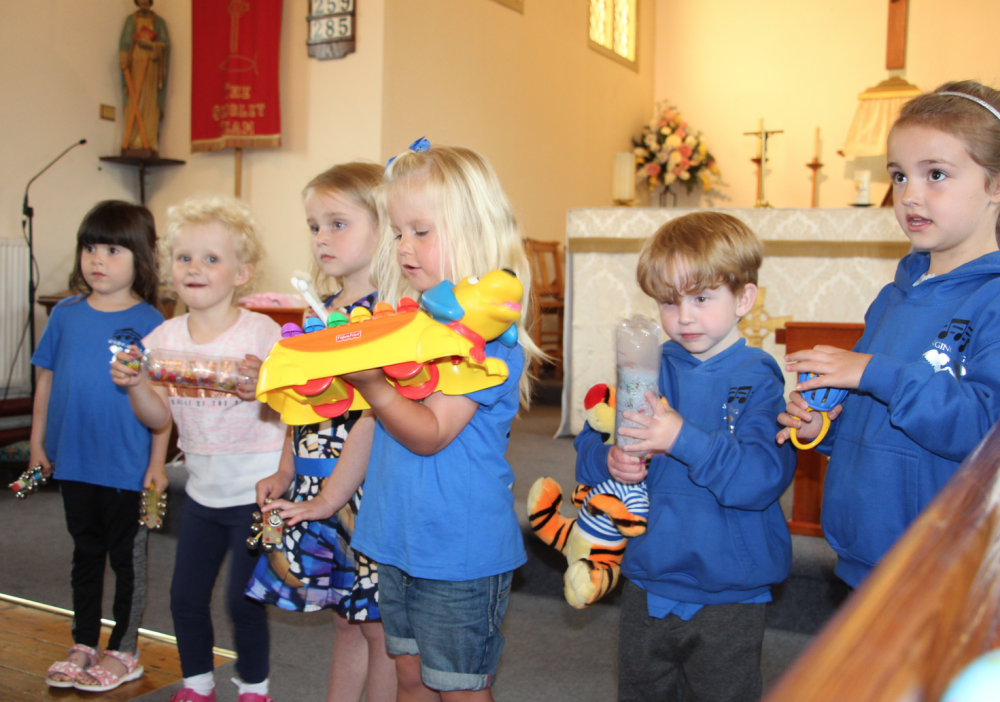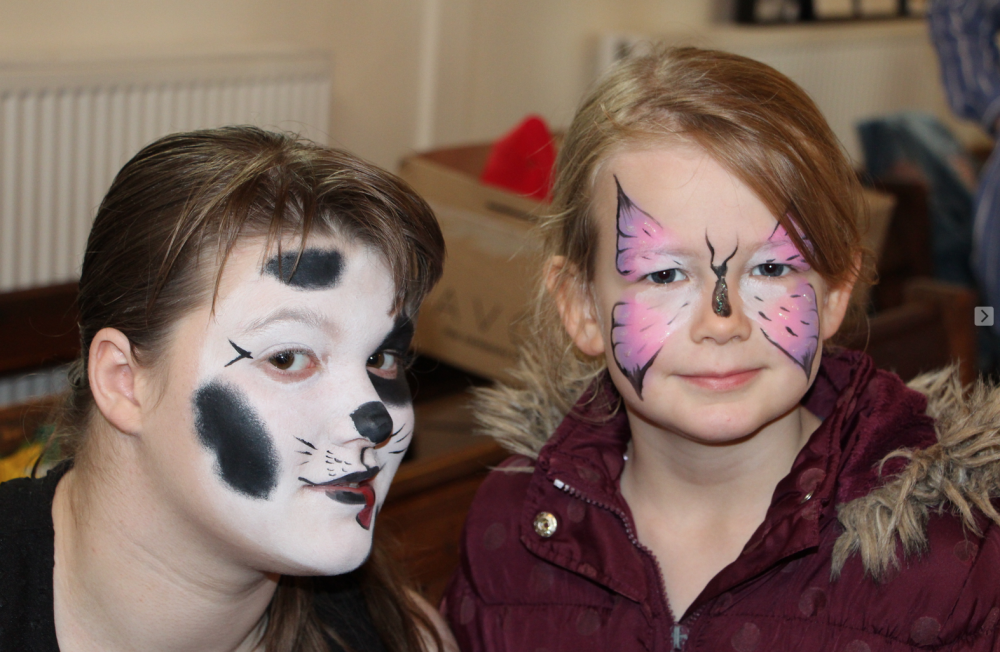 St Andrew's Garden Party on Saturday 10th June moved indoors to the church and hall, due to lively winds - and the possibility of the gazebos taking off!
So it became a summer fayre - it was a lovely event as always and thank you to everyone who worked so hard to prepare it.
More photos of St Andrew's Summer Fayre 2017
Video clip of Singing Angels at St Andrew's Summer Fayre 2017
ANOTHER SMASH IN GOSPEL END STREET/VICAR STREET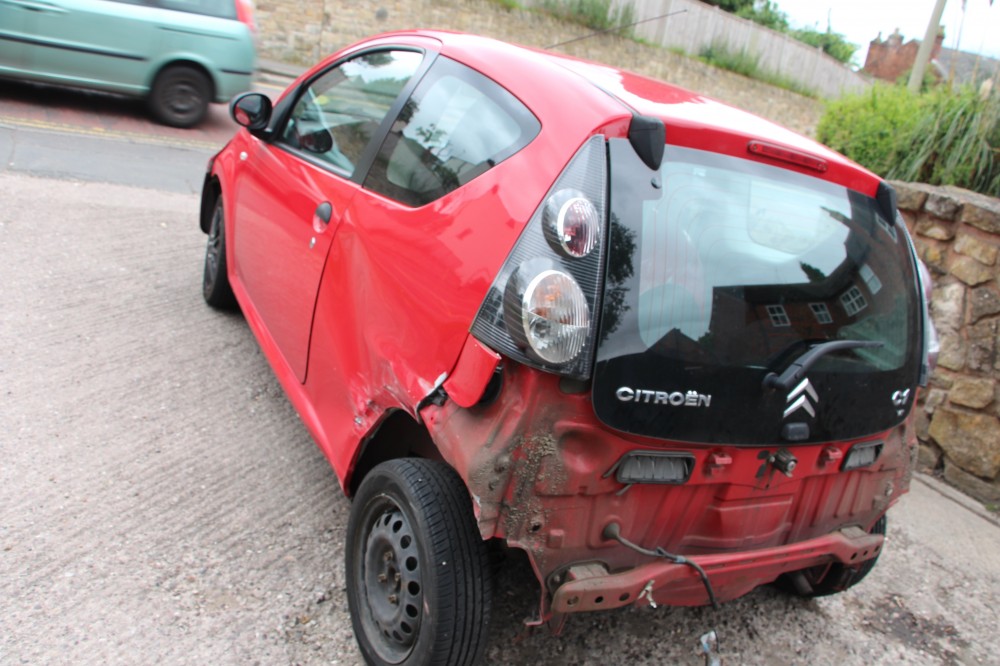 One of the vehicles involved in the collision last Saturday evening.
Members of the congregation driving to and from All Saints' are advised to take extra care in the area around the junction of Gospel End Street and Vicar Street near Cafe Cappella.
Last Saturday evening, 3rd June, there was another serious smash requiring paramedics and ambulances. It's the latest in a long series of serious collisions at this spot.
Our local councillors were contacted by email on 5th June.
Councillor Tina Westwood replied 11/6/17:
"Thank you for your email. As an update our highways engineers have informed us that the restructuring of the Gospel End Street Junction is scheduled to be carried out within this year's financial budget. At present the drawings and costings are being carried out, which was stated in our In Touch leaflet distributed throughout Sedgley a few months ago."
We have asked Cllr Westwood to provide details of the measures that are being designed, but have received no reply as yet.
The matter will be raised at the next Coseley East and Sedgley Community Forum on Monday 26th June.
PRAYING FOR DUDLEY IN PRIORY PARK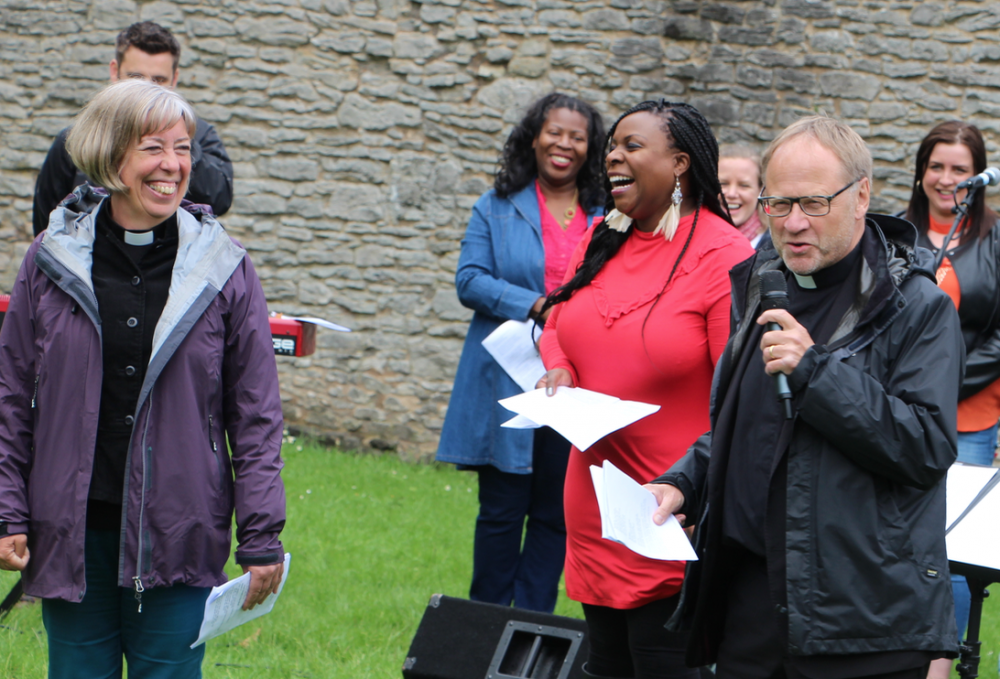 The two Archdeacons entertain the crowd at the 'Praying for Dudley' event, in the grounds of Dudley Priory.
About 300 people from around the Borough attended the 'Praying for Dudley 2017' event in the grounds of Dudley Priory on the afternoon of Sunday 4th June. It was a joyous occasion and our spirits were raised by the glorious harmonies of the community gospel choir who led the singing.
Inventive and colourful giant puppets created by our Methodist brothers and sisters presented the events of Pentecost in a novel way.
Despite heavy downpours before and after, there was no rain during the event.
Congratulations to the Bishop of Dudley, both our Archdeacons and all their staff and to everyone who contributed for organising this memorable communal worship.
Praying for Dudley 2017 event photos
A PEOPLE'S HISTORY OF HIGH STREET AND DUDLEY STREET SEDGLEY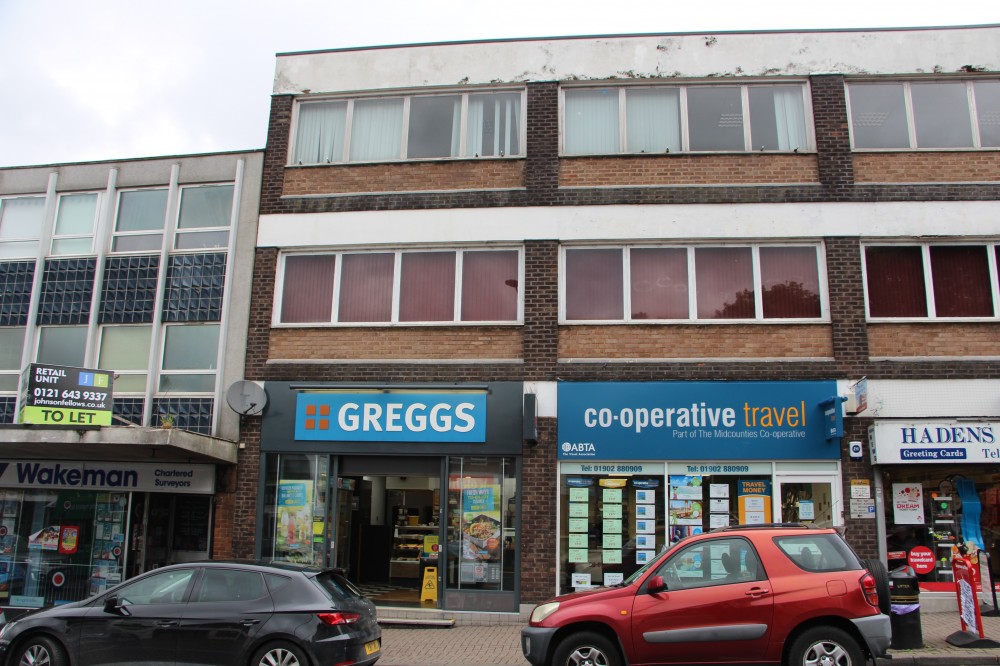 Photos were taken of every building in High Street and Dudley Street Sedgley for the 'Reminiscence Cafe' session.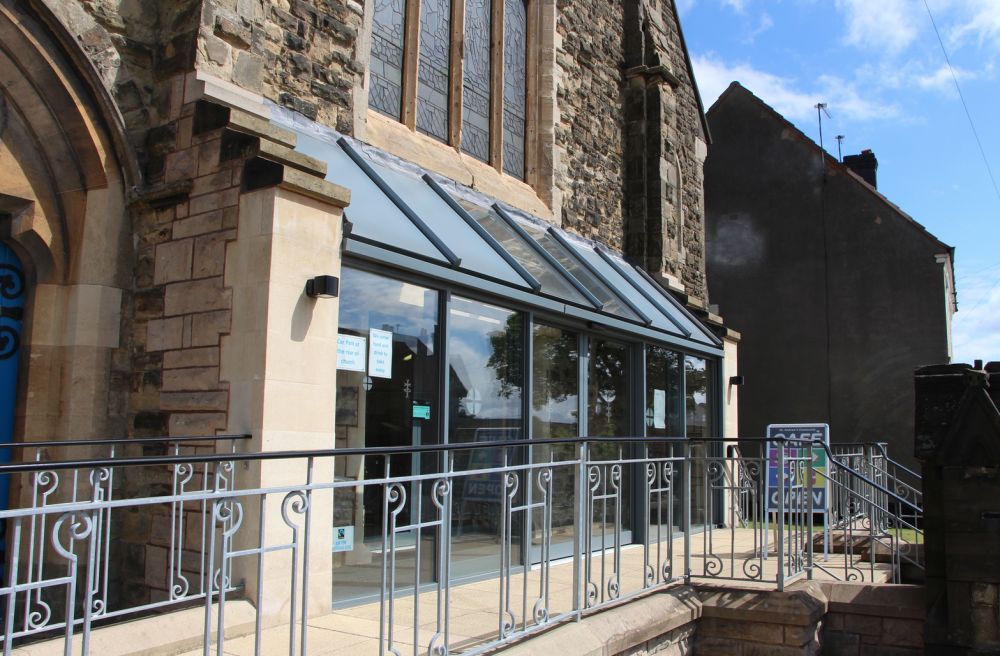 The 'Reminiscence Cafe' was held at St Andrew's Community Cafe in Bilston Street.
We held a very fruitful personal reminiscence 'trial session' at St Andrew's Community Cafe on 7/6/17.
The slide show prompted a host of memories in the informal ambience - Kennedy Slater attended from All Saints' and there were valuable contributions from staff and regulars at St Andrew's.
Between them we put together a 'people's history' of Dudley Street and High Street, which we will add to with contributions from more Sedgley residents in future sessions at other Sedgley venues.
For more information contact Martin:
mmjones29@blueyonder.co.uk
TRIPS OUT WITH A RELIGIOUS CONNECTION:
1. COUGHTON COURT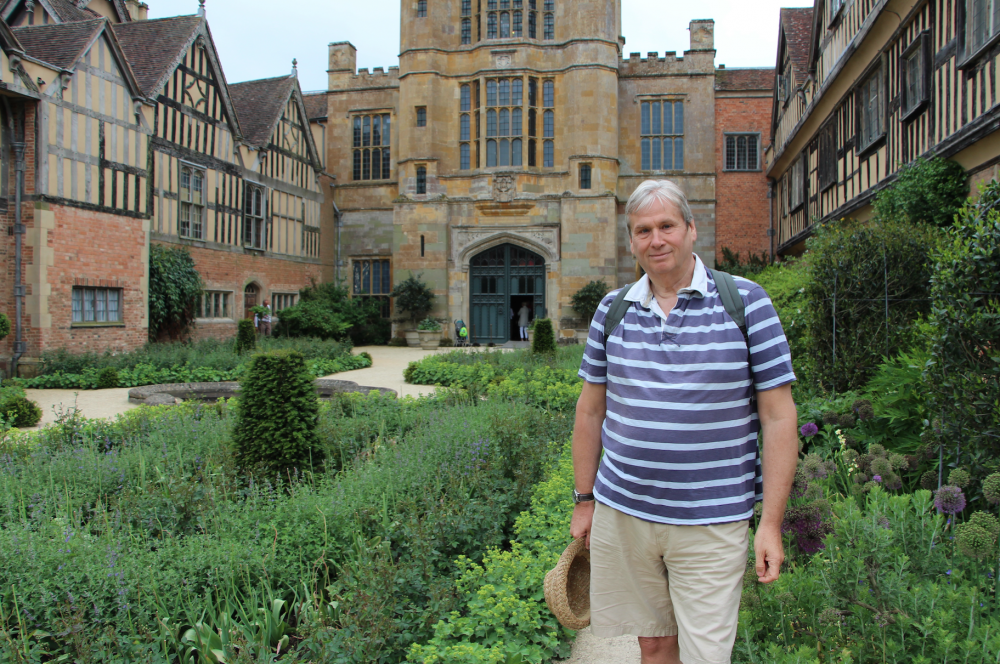 Coughton Court near Alcester - a hotbed of resistance to Protestantism.
Coughton Court near Alcester in Warwickshire is not only a magnificent Tudor mansion - it was also a hotbed of Roman Catholic resistance to the Reformation in the late 16th and early 17th centuries.
The Throckmorton family still live there today - over the centuries they have shown immense fortitude and resourcefulness to remain there and to maintain their faith through tumultuous times of religious conflict.
Martin and Magda visited over the late May holiday.
TRIPS OUT WITH A RELIGIOUS CONNECTION:
2. LOWER SAPEY, HARPLEY AND CLIFTON-UPON-TEME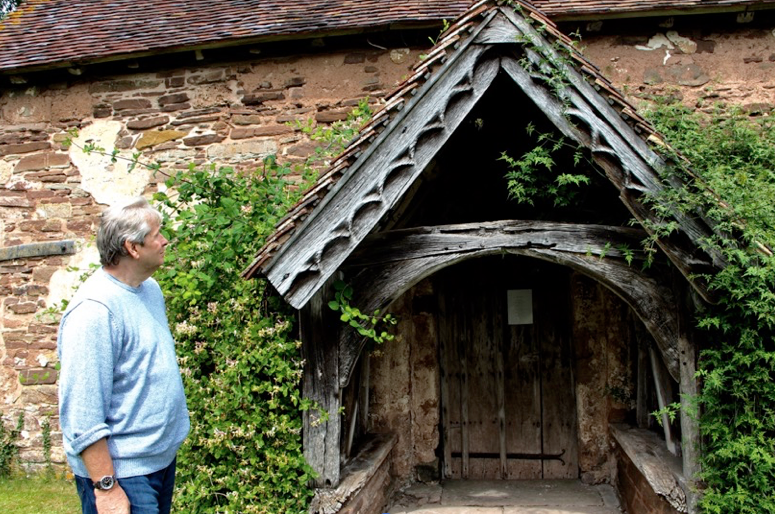 The remote, redundant church at Lower Sapey has been saved by a succession of caring people over the years.
Continuing our exploration of sister churches in the Diocese of Worcester, Martin and Magda explore a remote area north west of Worcester, and south west of Stourport.
Lower Sapey, Harpley and Clifton-upon-Teme
3. WITLEY, EDVIN LOACH, EDVIN RALPH, BROCKHAMPTON
A great day out in Worcester Diocese, visting Witley Church and surrounding villages.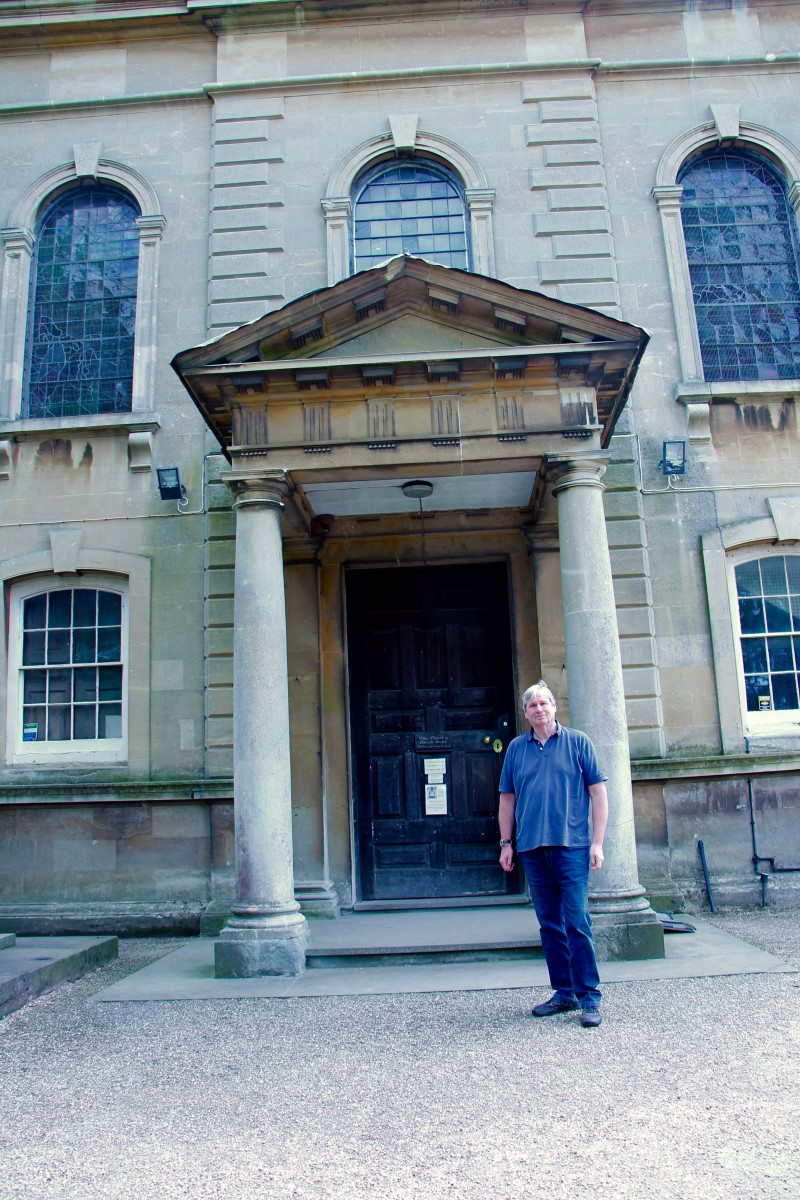 Witley Church.
Witley, Edvin Loach, Edvin Ralph and Brockhampton
A full list of our Days Out with a Religious Connection
SUMMER CONCERT REPLACES OUR FETE THIS YEAR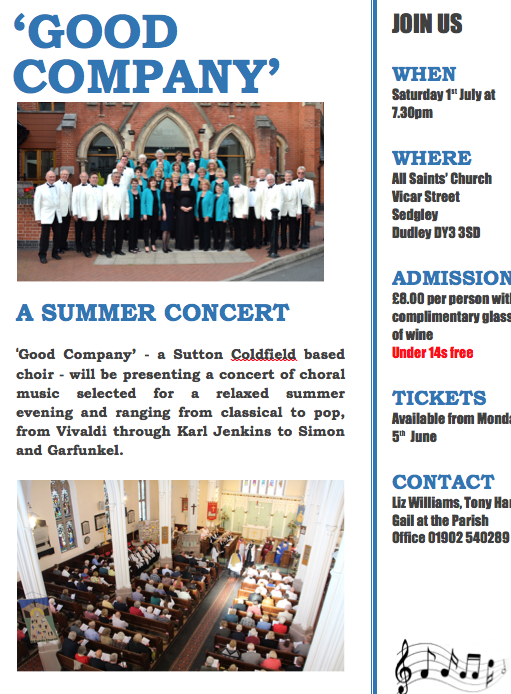 Instead of All Saints' Summer Fete this year, we have arranged a concert of varied choral music for a summer evening featuring 'Good Company', a choir from Sutton Coldfield at All Saints' Church on Saturday 1st July at 7.30pm. Tickets £8.00, from Liz, Tony Hart - or Gail in the Parish Office 01902 540289.
ASCENSION DAY - PHEW WHAT A SCORCHER!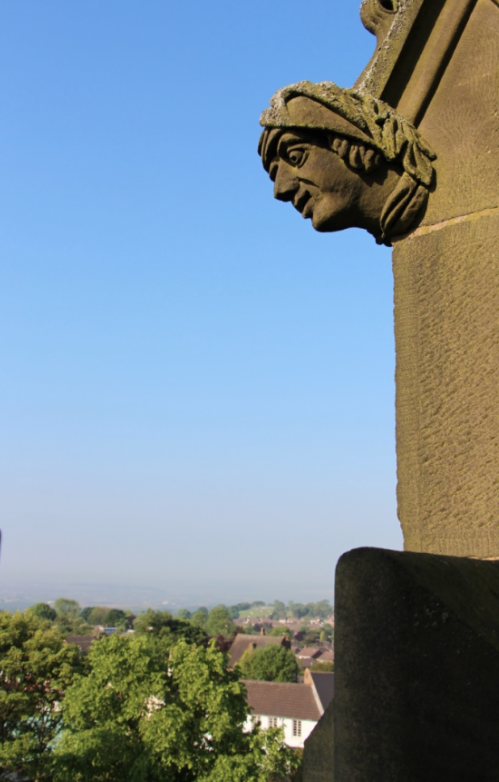 Ascension Day morning 2017 - on the parapet at All Saints'.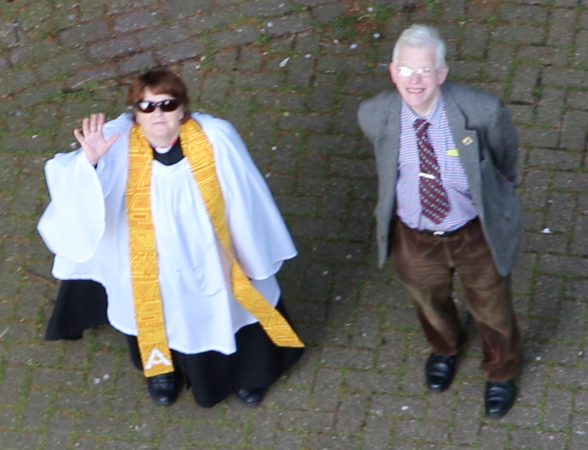 Catherine waves up to the parapet of All Saints' Tower on Ascension Day morning.
Ascension Day was our once-a-year opportunity to climb the church tower at All Saints' and view our surrounding countryside and city areas from a great height! Thankfully this year it turned out to be a glorious sunny morning.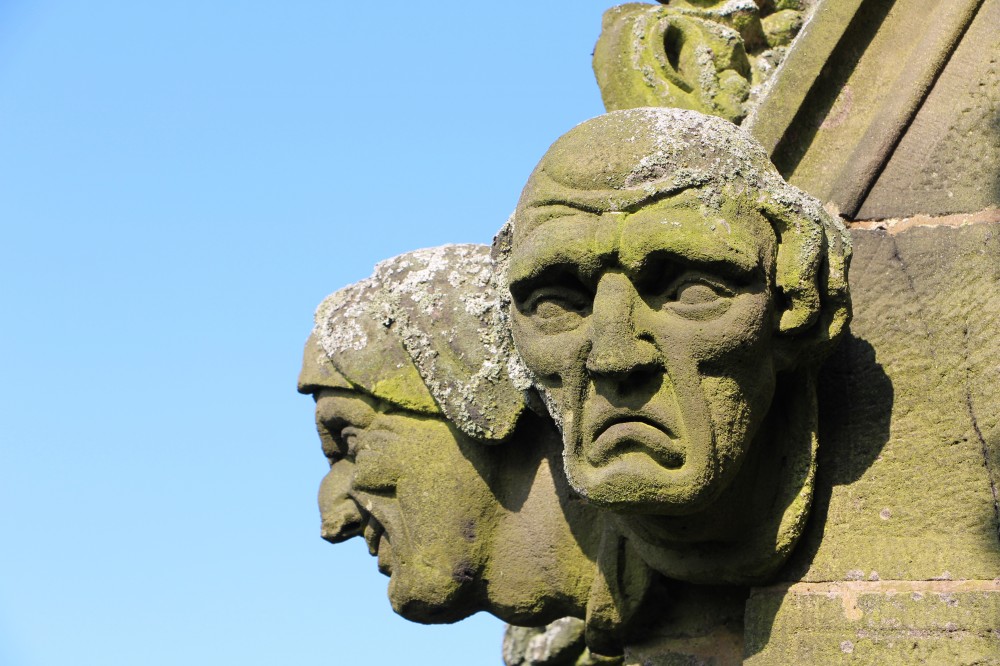 The early morning start clearly didn't agree with our friends.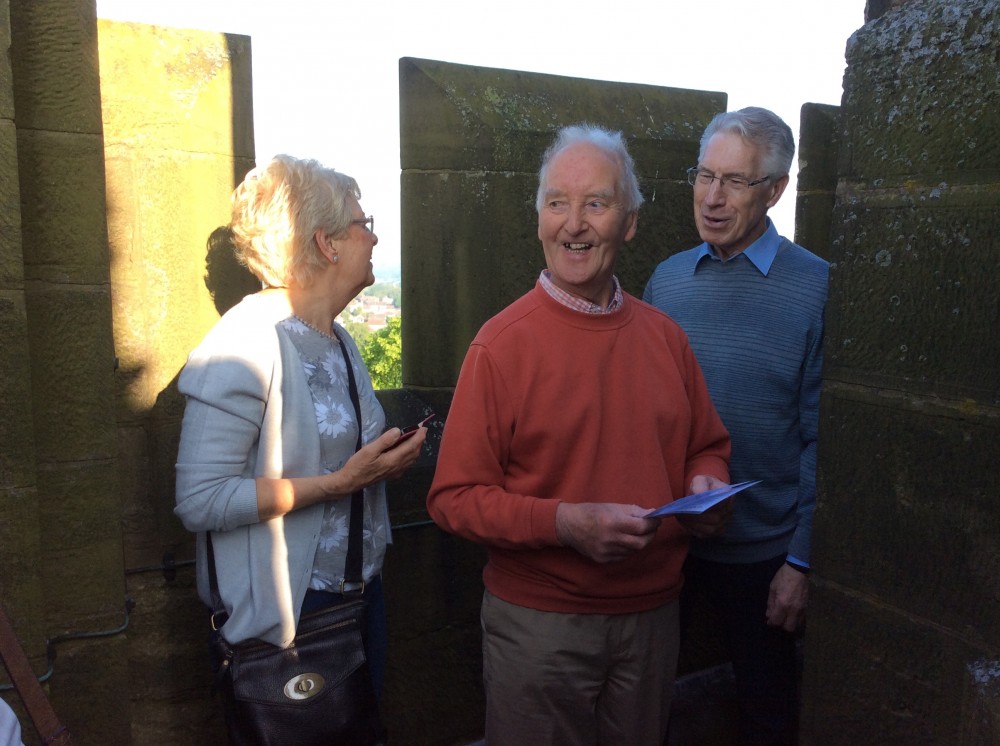 Thanks to Linda Watkins for this shot of the 'intrepid ones' who scaled the tower on Ascension Day.
Keith opened up before 7am, the bellringers rang in the day shortly afterwards, and our ascent of the tower began at 7.30am. Once on the parapet we sang 'Hail the Day That Sees Him Rise' by Charles Wesley, and said Ascension Day prayers.
At 8am there was Holy Communion in church, led by Revd Catherine Mitchell. 10 made it up the tower, and 16 attended the service. It was a wonderful experience, and well worth it.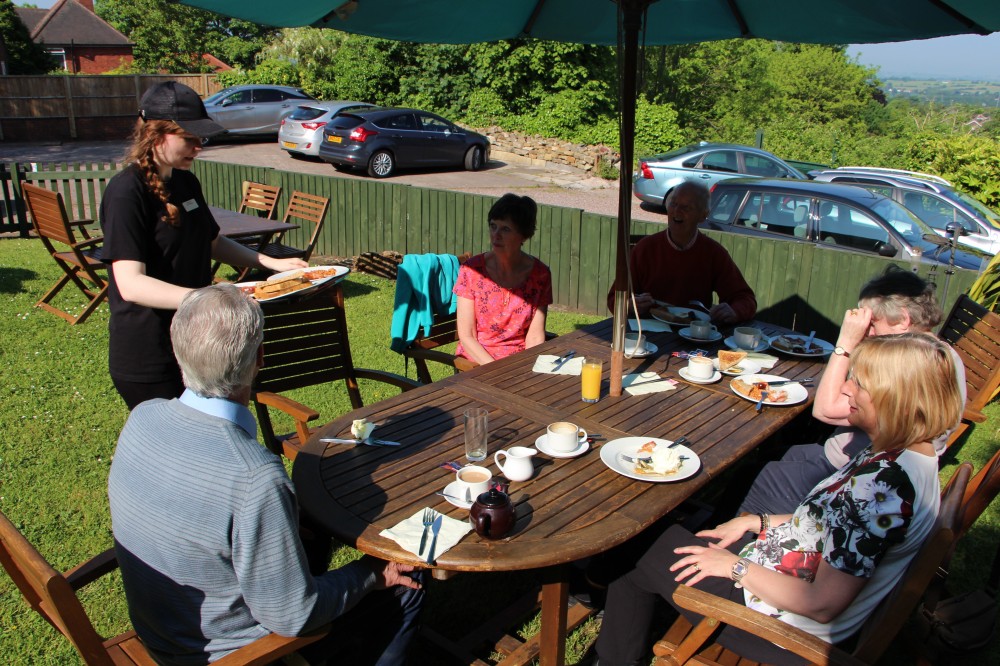 Al fresco! Breakfast on Ascension Day morning, outside in the patio area at Cafe Cappella. Our parish secretary Gail joined us before work.
Afterwards, around 8.45am, we rewarded ourselves at Cafe Cappella with a fellowship breakfast, which we were lucky enough to be able to eat outside.
More pictures from Ascension Day morning 2017
Video clip from the parapet looking west to Shropshire Ascension Day 2017
Days out with a religious connection: Holy Cross, Bobbington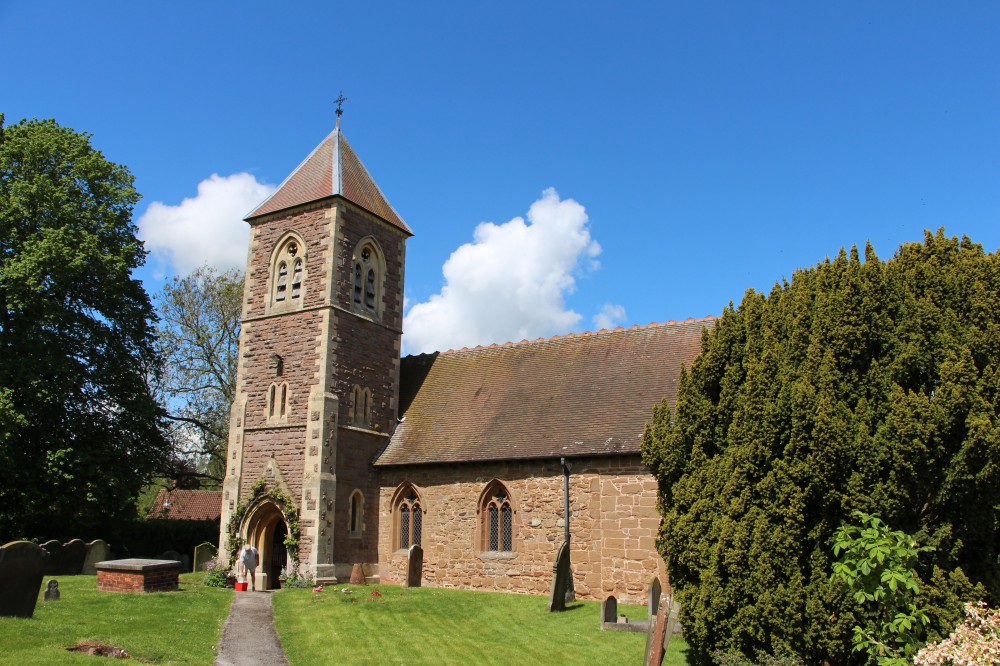 A chance visit to Holy Cross Bobbington reveals a connection with the Corbett family, who endowed Corbett Hospital - and a royal tragedy.
BEACON CENTRE TALKS
The Beacon Centre in Sedgley is offering free community sessions on Sight Awareness to local groups, which can if requested include the Beacon Bus, their low vision advice and resource service.
If any All Saints' groups would like to book a talk, please contact Martin mmjones29@blueyonder.co.uk
REVD GUY'S LICENSING DATE ANNOUNCED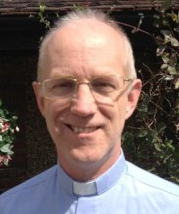 Revd Guy Hewlett, who will be licensed as our new Team Rector.
A date for the licensing of Revd Guy Hewlett as Team Rector of Gornal and Sedgley has been announced. It's on Sunday 3rd September at 4pm at All Saints'.
Revd Guy is currently Healthcare Chaplain working for the Worcestershire Acute Hospitals NHS Trust.
He was born in London, raised in Cambridgeshire, and studied Psychology in London.
He served as a police officer for 20 years in many different roles, including a police motorcyclist and was ordained as a minister in 1996, working part time with the church and the police. He was vicar in Harrow for a number of years. He is married to Jackie, a nurse, and has two children, both married.
OUR PARISH'S NEW REPRESENTATIVE ON THE DEANERY SYNOD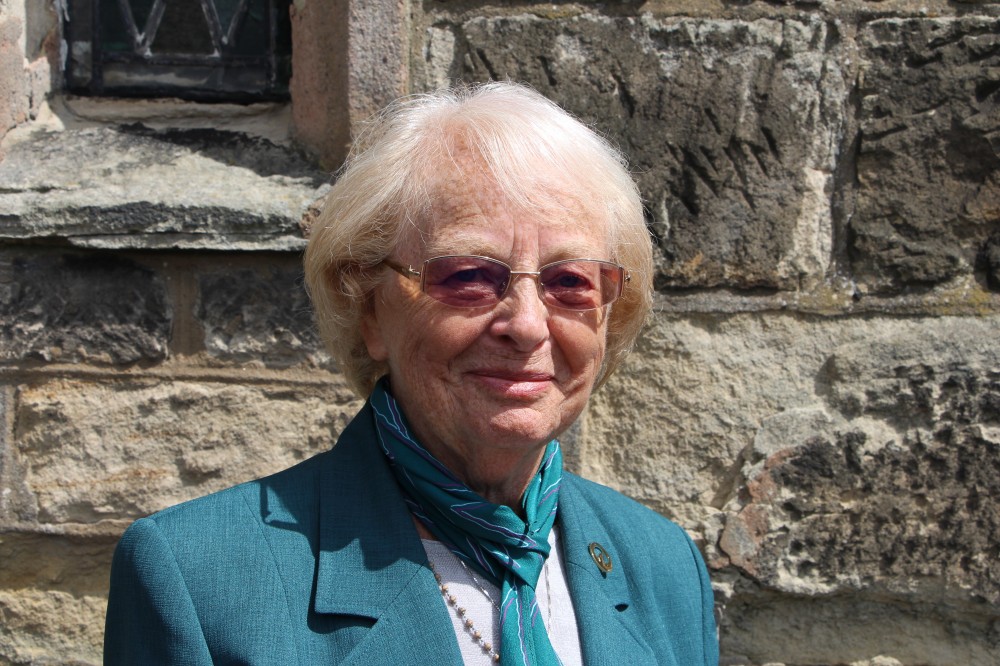 Joan Sullivan, the new Gornal and Sedgley representative on Deanery Synod.
Joan Sullivan is to be the new representative for Gornal and Sedgley Parish on the Deanery Synod.
Baptism and weddings - bookings
If in doubt whether a Vestry Hour will be held at All Saints', and to avoid a wasted trip, call our Parish Secretary Gail:
01902 540289 between 10am-12noon, Monday - Friday.
Parish contact details
Address:
All Saints Parish Office
Ladies Walk
Dudley
DY3 3UA
Phone number: 01902 540289
Our Administration Assistant is Gail Griffiths.
The Revd Catherine Mitchell
Team Vicar
Gornal and Sedgley Team Ministry
All Saints, Sedgley
St Peters, Upper Gornal
St Andrews, The Straits
Tel 01902 677897
revcatherinemitchell13@gmail.com
Other email addresses:
Keith Tomlinson, Churchwarden:
churchwardenkeith@allsaintssedgley.co.uk
John Anderson, Treasurer and Churchwarden:
treasurer@allsaintssedgley.co.uk
Jenny Lavender, Assistant Treasurer:
asstreasurer@allsaintssedgley.co.uk
David Bell: caretaker@allsaintssedgley.co.uk
Telephone Number: 07933 204132
The parish office is open 10am-12noon, Monday to Friday.
Information should be sent to Gail by Wednesday for inclusion in Sunday's pewsheet.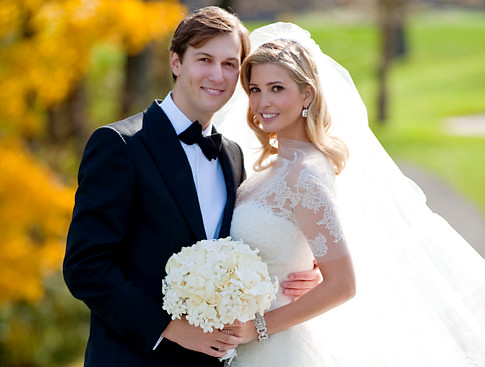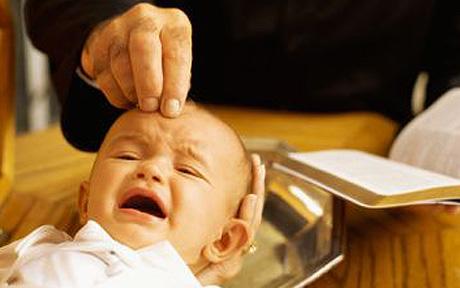 Arranging a wedding or baptism? - click here
Our website
If you'd like to contribute any information about forthcoming church events, write an article, or correct anything on the site, please send your information to Martin our website editor.